Microsoft and AT&T have launched an Azure Edge zone in Atlanta, Georgia.
Azure Edge zones offers 5G-connected cloud services from Edge facilities; a service similar to AWS Wavelength zones.
"For densely populated metros where enterprises need low-latency compute resources, we extend the capability of Azure to the operator's 5G network edge. Azure Edge Zones with AT&T can dramatically improve an application's performance while reducing overhead and complexity for enterprise customers," said Jason Zander, executive vice president, Microsoft Azure. "A selected set of Azure services deployed at the edge, directly connected to AT&T's 5G core, enables latency-sensitive enterprise scenarios through optimized routing from the Azure Edge Zones with AT&T to the AT&T mobility network."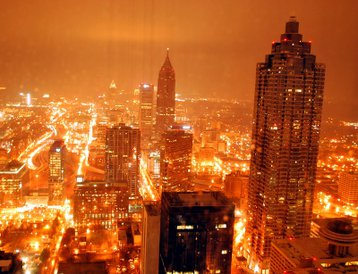 The two companies announced this week the launching the "Private Preview" of the service, which they said allows customers to combine 5G and cloud computing.
"The power of 5G is about more than just speed. It's about harnessing ultra-fast and ultra-responsive connectivity to distributed cloud technology for entirely new experiences. As compute expands beyond centralized systems and out to the edge of the 5G network, companies and consumers now essentially have supercomputer capabilities in the air around them. From lightweight virtual reality interfaces that can be used by anyone from gamers to first responders, to hyper-precise location tools for industrial applications and warehousing, the edge is transformative. Our deep collaboration with Microsoft is designed to help customers make that leap and start creating the future."—Andre Fuetsch, Chief Technology Officer, AT&T Network Services
Microsoft said the two companies had conducted a successful proof of concept of the service in Los Angeles, with Dallas and other metros set to follow soon.
AT&T said one customer was music rehearsal and collaboration service JamKazam; the new Edge Zone enabled low-latency virtual jam sessions. AT&T and Microsoft also worked with EVA to help development of autonomous drones.
In July Microsoft announced it was to acquire AT&T's Network Cloud; AT&T Communications CEO Jeff McElfresh said at the time the deal "brings Microsoft to the edge of our network and supporting our network workloads."
Microsoft also offers a private mobile Edge cloud computing service in partnership with Verizon.
Verizon is also the main US partner for AWS for its Wavelength zones. Like the Azure Edge zones, Wavelength zones embed AWS compute and storage services at the Edge of communications service providers' 5G networks and provides access to cloud services running in a nearby AWS Region.
AWS first announced it was partnering with Verizon in December 2019, when a pilot project was launched in Chicago. Wavelength Zones are now available through Verizon in 13 US cities; Atlanta, Boston, Chicago, Dallas, Denver, Houston, Las Vegas, Miami, New York City, Phoenix, San Francisco, Seattle, and Washington DC.
In June AWS partnered with Vodafone to launch the service in London, UK. The service is also available in Tokyo and Osaka, Japan, through KDDI; and Daejeon, South Korea, through SK Telecom.