American flash specialist Micron Technology, widely known as a supplier of various types of memory chips, has launched its first ever storage platform, called SolidScale.
SolidScale is a 2U appliance that connects 24 Non-Volatile Memory express (NVMe) drives to a fabric-based network. It hopes to enable better storage performance and improved drive utilization, since SSDs can be shared between servers in individual racks without a negative effect on IOPS.
This approach is expected to gain more popularity in the future, as NVMe over fabric (NVMeF) becomes an official storage standard.
"We estimate that companies using NVMe SSDs deployed in application servers today are on average using less than 50% of their IOPS and capacity," said Darren Thomas, vice president of the Storage Business Unit at Micron.
"With the new Micron Solid Scale architecture capacity is shared across application servers, unlocking capacity customers have already paid for so that they can do more with less and unleash flash's true performance."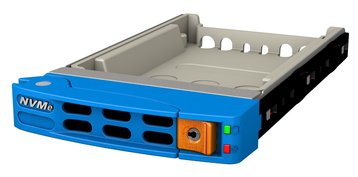 Flash on tap
NVMe solid state drives deliver exceptional storage performance, since they are designed to take advantage of the fast PCIe expansion bus, rather than ageing SATA and SAS interfaces. However, such devices often cannot be efficiently shared on the network, since they require too much bandwidth.
SolidScale is not just a storage server – the company calls it both a platform and architecture, with more devices of this type expected in the future. It delivers flash using high-speed RDMA over Converged Ethernet (RoCE) fabric, developed by Mellanox and managed by proprietary software.
Micron says this approach ensures high throughput, low latency, and enables flash storage to be scaled at near linear performance rates. According to the company, SolidScale adds an average of just five microseconds of additional latency to an application's data path, when compared to a local in-server NVMe.
"Faster storage needs faster networks - in terms of bandwidth, latency, and advanced protocols like NVMe over Fabrics," said Kevin Deierling, vice president of marketing at Mellanox Technologies. "We are proud to connect Micron's innovative SolidScale solution with our end-to-end 100G Ethernet RoCE networking solutions. The combination of Spectrum switches, ConnectX-4 adapters and LinkX cables enables SolidScale to maximize performance and total infrastructure efficiency."
The SolidScale architecture is currently being tested with key Micron customers and partners, and volume production is expected to begin in early 2018.
Earlier this month, Micron appointed co-founder and former chief executive of SanDisk, Sanjay Mehrotra, as its CEO.