Memory–maker Micron Technology has teamed with producers of servers and storage software in a bid to win data center customers over from Intel's storage products. 
Micron, along with server producer Supermicro and software defined storage firm Nexenta have designed all-flash arrays for Xeon servers, in a bid for a collective challenge to Intel's own own flash drives and 3D XPoint memory, which might be seen as the default option in that sector. Individually the group members would find it difficult to challenge Intel but by combining their products and talents to create integrated arrays they can offer customers plug-and-go, rack-mount systems based on open source software.
Three from three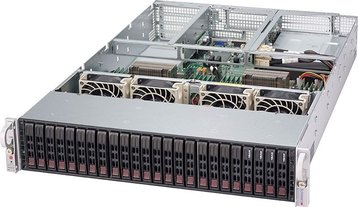 There are three products available: VMware Accelerated Solution for Virtual SAN Ready Nodes, Accelerated Ceph Storage Solution, and Accelerated NexentaEdge Solution.
Eric Endebrock, vice president of solutions marketing at Micron Technology, said, "The market is demanding new solutions designed from the ground up, so we're collaborating with an industry leading peer to create next generation software-defined storage that will help future proof today's data centers."
All-flash array (AFA) storage products are gaining in popularity and growing from that is the concept of the all-flash data centre. Market researcher IDC's Worldwide Quarterly Enterprise Storage Systems Tracker for March reckoned worldwide sales of AFAs were $2.58 billion last year, and the market is expected to grow at a 21.6 percent CAGR through 2019 to reach $5.65 billion.
Tarkan Maner, CEO and chairman of Nexenta, said, "We believe the combination of open source collaboration, software-defined engineering innovation at Micron, Supermicro and Nexenta, coupled with business-solution-oriented, go-to-market execution, will take the enterprise storage market by storm due to fast growth in big data and software-defined cloud deployments for any app, via any stack, and on any infrastructure."
Availability of the Virtual SAN Ready Nodes and Ceph Storage models is imminent. The collaboration with Nexenta is expected to result in a joint reference architecture and product in the summer of 2016.