A US pension fund has pledged $37 million for the construction of a 145,000 sq ft data center in Plano, Texas by Stream Data Centers, in a joint venture with Principal Real Estate Investors.
The facility will be built on a 16 acre stretch of land in the Legacy Business Park, where it will benefit from state tax incentives.
Texas Own'em
The Parkwood Data Center will be powered by two, separate 20MW utility feeds and have access to four fiber routes.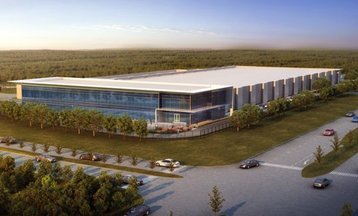 Although it will be equipped to cater for up to five customers, Principal is reportedly keen to lease the data center to a single tenant.
The facility will mark Principal and Stream's third collaboration, following on from projects like DFW-III, a 150,000 sq ft data center now owned by Research in Motion. Stream runs a total of 18 data centers including ten in Texas, one in Minnesota, one in Colorado and five in California.
Oh Dear
The Michigan State pension fund is one of at least seven public funds outed by a recent Reuters report for investing in the CIM Group, a real estate group which has been found to collect millions of dollars in investment funds for its properties, which include the Trump SoHo Hotel and Condominium in Manhattan, New York, both of which belong to the current President of the United States. 
This could mean that Trump is in violation of a US constitutional rule which prohibits him from earning state money while occupying his presidential role, depending on how courts decide to interpret the clause.
Brianne Gorod of the Constitutional Accountability Center has said that the judiciary are in "largely uncharted territory" as past heads of State have "gone to great lengths" to avoid being found to receive public funds whilst in office.
However, one of the lawyers presented with the Reuters inquiry reportedly stated that any payments not relating to "the discharge of duties in office" do not constitute emoluments.