Mellanox is aiming to leapfrog its networking rivals with the unveiling of a new ASIC for Ethernet switches that offers speeds of 200Gbps or 400Gbps, while supporting numerous network operating systems as part of the Open Ethernet initiative.
The Spectrum-2 ASIC is designed to address the exponential growth in the volumes of data being moved around due to trends such as cloud services, high performance computing, big data and machine learning applications, according to Mellanox.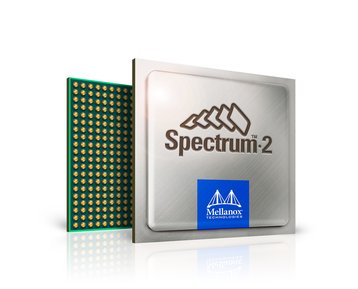 Feed the speed need
Customers in the hyperscale market are already crying out for higher bandwidth than the 100GbE typically used for switching at the top of the rack, according to Mellanox chief executive Eyal Waldman.
"We have people waiting, asking us to deliver to them 400GbE today. They want the backbone of their data center to run at 400Gbps, they want to over-provision because they see bottlenecks, they have large amounts of data that create bottlenecks today, and they want to move as fast as they can to 400Gbps," he said.
However, those customers will have to wait a little while longer, as the silicon itself will not be available until later this year or early next year, along with Mellanox's own SN3000 series switches based on the hardware. What is available now is a Spectrum-2 SDK for partners to get to grips with.
The Spectrum-2 ASIC delivers its higher speeds through bonding of multiple Ethernet lanes, so that it can support up to 128 ports of 10/25/50GbE or up to 16 ports of 400GbE, using eight 50GbE lanes bonded together.
Other combinations are possible, such as 32 200GbE ports or 64 100GbE ports, while Mellanox said that the most likely scenario would be servers connecting to the switch using 25GbE or 50GbE, with 200GbE/400GbE used to uplink to the backbone.
Mellanox's SN3000 series based on the Spectrum-2 ASIC will support the Open Network Install Environment (ONIE), allowing customers to choose a network operating system from Mellanox's own MLNX-OS, Microsoft's SONiC, or Cumulus Linux, among others.