Semiconductor company Marvell Technology Group will buy Inphi Corp in a $10bn cash-and-stock deal.
Marvell supplies chips that move data on copper-based cables, but Inphi makes chips that traffic data over fiber-optic cables. Inphi's customers include Amazon, Google, Microsoft, and Facebook, which use its chips for optical connections inside their data centers. Inphi's assets are also used for 5G hardware.
Off to the chip shop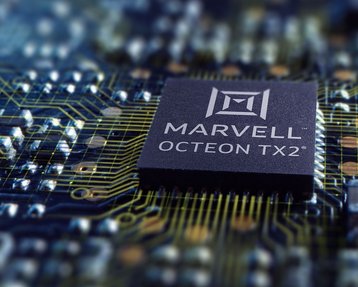 As part of the purchase, Marvell will give Inphi shareholders $66 in cash and 2.32 shares of stock in the combined company for each share of Inphi. After the deal, Marvell shareholders will own about 83 percent of the combined company, with Inphi shareholders owning about 17 percent.
Marvell plans to use balance sheet cash and debt to fund the deal, taking on about $4bn in new debt from JPMorgan Chase & Co.
"Our acquisition of Inphi will fuel Marvell's leadership in the cloud and extend our 5G position over the next decade," said Matt Murphy, president, and CEO of Marvell.
"Inphi's technologies are at the heart of cloud data center networks and they continue to extend their leadership with innovative new products, including 400G data center interconnect optical modules, which leverage their unique silicon photonics and DSP technologies. We believe that Inphi's growing presence with cloud customers will also lead to additional opportunities for Marvell's DPU and ASIC products."
The takeover is expected to generate revenue of around $125m over 18 months for Marvell, should the deal be finalized in the second half of 2021.
Ford Tamer, president and CEO of Inphi, added: "Marvell and Inphi share a vision to enable the world's data infrastructure and we have both transformed our respective businesses to benefit from the strong secular growth expected in the cloud data center and 5G wireless markets. Combining with Marvell significantly increases our scale, accelerates our access to the next generations of process technology, and opens up new opportunities in 5G connectivity."
The Marvell purchase follows a slew of other large semiconductor consolidation moves such as AMD looking to buy Xilinx for $35bn and Nvidia's $40bn purchase of Arm.