A data center in Lekki, Nigeria, built by MainOne's subsidiary MDXI, has been awarded Tier III Constructed Facility (TCCF) certification by the Uptime Institute.
The certificate attests that the facility was designed and built in compliance with strict reliability guidelines, and all mission-critical equipment is concurrently maintainable.
The move follows a N2.5 billion ($6.58m) investment into the site, announced in February.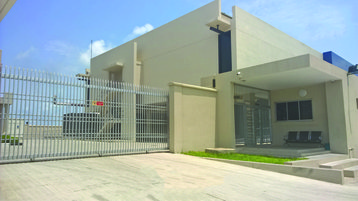 Reliability in Lagos
MainOne is owned by Main Street Technologies. It was established in 2010 to manage the building and operation of the privately funded Main One Cable System, stretching from Portugal to South Africa.
It was the first native African company to lay an international communications cable.
Using the open access fiber backbone, MainOne soon diversified into colocation, managed hosting and cloud services. Its facility in Lekki, to the east of Lagos, offers enough capacity to house 600 racks of IT equipment.
Certification with the Uptime Institute consists of two stages: the first, Tier Certification of Design Documents (TCDD), checks whether the design of the facility meets the defined availability requirements of the selected Tier.
The second is more important: it includes live testing of the mechanical and electrical performance of the facility under real-world conditions, simulating events such as a complete power outage, and is otherwise known as Constructed Facility certification (TCCF).
The data center in Lekki is the largest Tier III certified facility in West Africa. The facility is also certified with the PCI-DSS, ISO 27001 and 9001, and SAP Infrastructure Services.
"With the increased recognition of Africa as the home of fast-growing economies, it is important that we have the infrastructure required to establish, enhance and sustain effective business performance in today's global digital economy," said general manager of MDXI, Gbenga Adegbiji.
"Outsourcing of Data Center services to a reputable provider such as MDXI ensures businesses can adopt more cost-effective models of consuming technology to allow increased focus on business development and growth. As we build a data centre ecosystem spanning facilities across West Africa, we plan to launch new Tier III data centres in Sagamu, by Q4 2018, Ghana in 2019 and Cote I'voire in 2020."
Read our in-depth interview with the CEO of MainOne, Funke Opeke, in the latest issue of the DCD Magazine.