Lumen Technologies has announced it is investing in a fiber pair on Google's Grace Hopper subsea cable system.
The cable, spearheaded by Google, connects between New York, and Bude, Cornwall in the UK, and will see Lumen providing landing stations and infrastructure services at both locations. It also connects to Bilbao, Spain.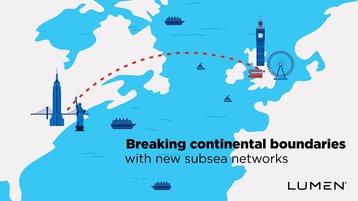 The investment in the Grace Hopper cable is Lumen's sixth on-net subsea route that the company has invested in across the Atlantic.
"Data flow and capacity demands don't know boundaries. The bandwidth explosion across continents is real and we're meeting it head-on by investing in new subsea cables," said Lumen president of global customer success Laurinda Pang.
Google's Grace Hopper consists of 16 fiber pairs, and supports 350Tbps. Once complete, Grace Hopper will be the first cable to connect the US and UK since 2003.
This is the first Google investment into a private submarine cable to the UK and the company's first-ever private route to Spain. When established, the Spanish landing station will feed into Google's planned Cloud region in Madrid.
Grace Hopper will also use fiber switching to better move traffic through outages, and negotiate around network problems. This will be a feature in all future Google cable projects.
The cable landed near Bilbao on September 10 last year, and in Bude, Cornwall, on September 14, 2021. The cable is named after computer scientist, and US Navy Rear Admiral Grace Brewster Murray Hopper.
Last year Lumen added a new on-net route utilizing the Google Dunant subsea cable system between Richmond, Virginia, and Paris, France.
Earlier this month Lumen appointed former Microsoft US president Kate Johnson as its new CEO, president, and a member of its Board of Directors. She replaces long-term CEO Jeff Storey on November 7, who is retiring after 40 years in the telecommunications, and technology industry.
Hyperscalers are increasingly investing in subsea cables, both as consortiums and privately, with Google leading the charge. The search giant has invested in around 20 cables over the last ten years.