Lunar data center company Lonestar Data Holdings has closed a $5 million seed round.
The startup, which hopes to deploy small data centers on the Moon, raised money from Scout Ventures, Seldor Capital, 2 Future Holding, The Veteran Fund, Irongate Capital, Atypical Ventures, and KittyHawk Ventures. The $5m includes funds that were raised last year as part of the round.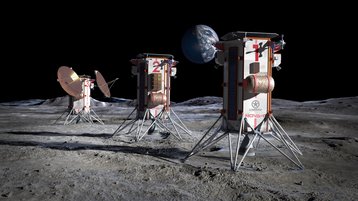 "The $5m is financing our first two missions this year," CEO Christopher Stott told DCD. "The hardware is complete and awaiting launch."
The company's first mission is scheduled in the second quarter of 2023. "We were scheduled for this month, but NASA asked Intuitive Machines, our provider, to move their mission back and to change landing sites," Stott explained. The landing site was moved last month to the lunar South Pole Region.
A second mission, also with Intuitive, is planned for Q4.
The new funding "gets us to revenues from the Moon and well into our third planned mission in 2025," Stott said, although a Series A is expected in the Fall.
Scout Ventures' founder and managing partner Brad Harrison added: "We believe that expanding the world's economy to encompass the Moon, which happens to be the Earth's most stable satellite, is the next whitespace in the New Space Economy. Data security and storage will be a necessary part of leading the new generation of lunar exploration."
Lonestar plans to send lightweight data center equipment to the Moon, and will offer a disaster recovery backup service, as well as Edge processing for missions based on the Moon. Initial deployments will be a server and storage module the size of a book, powered by solar energy.
Hardware is built by space logistics firm Skycorp, and contains multi-core RISC-V processors.
Back in 2021, we spoke to Thales Alenia Space about NASA-backed efforts to build a data center on the Moon. If and when the facility is live on the Moon, it will connect to Nokia's Moon-based cellular network. Both will form part of LunaNet, which we profiled in detail.