A network of hidden tunnels and former telephone exchange has been purchased from BT to become a tourist attraction.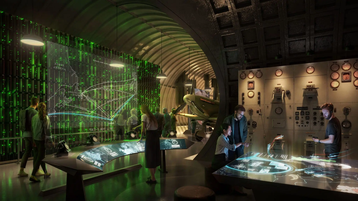 Previously known as the Kingsway Exchange, the tunnels are around one mile long and live one hundred feet under the London area of High Holborn.
Originally built in 1940 and designed to shelter Londoners during the Blitz (though reportedly never used), the tunnels went on to be used by the Special Operation Executive forerunners of MI6, before being repurposed into the Kingsway Telephone Exchange in the 1950s where it housed a maximum of 5,000 trunk circuits.
In 1956, it housed the first Transatlantic telephone cable - TAT-1 - which was used as a hotline link between the White House and the Kremlin during the Cold War. During the 60s, 70s and 80s, up to 200 engineers worked at the exchange. Once the exchange was no longer needed, Kingsway was repurposed for the Radio Interference Investigation Group.
During the 1980s, it housed the Kingsway Computer Centre, a backup for the International Circuit Allocation Record Update System. Around this time, the site was purchased by BT, before being closed in the 1990s after large amounts of blue asbestos were found.
The tunnels have been purchased by a consortium called London Tunnels Ltd. The company plans to invest around £140 million ($170m) in restoring and fitting out the 25ft wide tunnels, and another £80m ($97m) in installing interactive screens, scent emitting technology, and acoustic pinpoint speakers throughout the 8,000 sqm network. London Tunnels hopes to launch the attraction in 2027.
Due to the tunnels' historical purposes, the location is fully equipped with electricity from four diesel generators, water supply, and ventilation equipment. At one time it also had the deepest licensed bar in the UK.
Most recently owned by BT, the telecoms company has been trying to sell the underground property since 2008, hoping at the time to fetch around £5m ($6.08m) - now equivalent to £8.5m ($10.3m).
The acquisition was led by Angus Murray with the backing of his private equity firm, Castlestone Management, who is also CEO of London Tunnels.
Murray said: "The history of the tunnels, their scale, and the location between London's Holborn and the historic Square Mile, could make these tunnels one of London's most popular tourist destinations.
"We now wish to work with local stakeholders and residents to make this a reality and look forward to hearing their thoughts as we finalize a planning application."
The development has yet to receive planning permission from Camden Council.