Chinese electronics giant Lenovo has redesigned its data center lineup, adding new product families and rearranging some of the older ones.
The company has announced a total of 26 new products – its largest hardware refresh ever - across two new brands, ThinkSystem and ThinkAgile.
The former will encompass servers, storage and networking equipment designed for traditional enterprise data centers, while the latter will offer pre-integrated solutions aimed at the hyperscale crowd and organizations that need a cloud-like environment.
All of the new products will be released this summer. The announcements were made at the Lenovo Transform event in New York.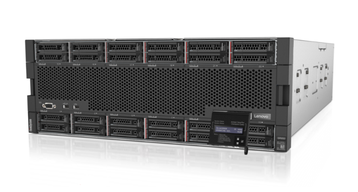 Think servers, think Lenovo

In 2016, Lenovo emerged as the largest PC manufacturer in the world: according to research firm Gartner, every fifth desktop or laptop sold today carries the Chinese vendor's logo. The company has been less successful on the server market – in the first quarter of 2017, it was responsible for just 6.7 percent of all server shipments.
The refresh of the data center portfolio could be seen as an attempt to address this imbalance and introduce more clarity into Lenovo's many and varied product lines.
The new ThinkSystem range will include servers based on the latest Xeon Scalable processor family from Intel, as well as disk and flash storage arrays, and Ethernet and Fibre Channel network switches.
The company positions ThinkSystem as a way to combat IT complexity, and says all of the hardware will seamlessly integrate into the customer's existing IT environment.
ThinkAgile will offer the same hardware but pre-integrated, pre-built and pre-tested, so it can be deployed in the shortest amount of time. One of the first entries in this range is the ThinkAgile SX series, that ships with Microsoft's Azure Stack on board.
It is worth noting that Lenovo inherited the 'Think' brand from IBM in 2005, after acquiring its consumer device business. The company followed up on that deal with the acquisition of IBM's entire x86 server portfolio in 2014.
"Today's announcements mark a significant day in the next phase of Lenovo's commitment to advancing the data center customer experience," said Kirk Skaugen, president of Lenovo Data Center Group.
"Our leadership in x86 server customer satisfaction and x86 server reliability, along with these new ThinkSystem and ThinkAgile brands, and Lenovo's new portfolio of data center solutions represent the most reliable, most agile, and highest performing data center solutions in the industry."
A complete list of products announced at Transform can be found here.