AWS has made one of its software services available on-premise through a third party, with Lenovo launching a machine vision appliance featuring AWS software pre-installed.
AWS Panorama is a collection of machine learning (ML) devices and a software development kit (SDK) that brings computer/machine vision to on-premises internet protocol (IP) cameras, streaming the likes of on-site CCTV feeds through the on-premise appliance and applying machine learning to the video. AWS launched its own AWS Panorama Appliance in October 2021.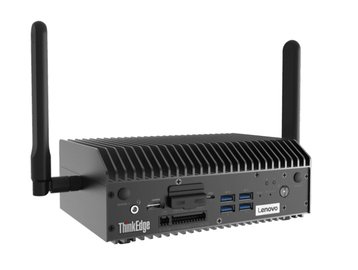 However, in a rare move, the company has now ported its Panorama service to third party hardware. First announced in September 2021, the Lenovo ThinkEdge SE70 is now available for sale.
"The Lenovo ThinkEdge SE70 device provides customers with another choice in price and performance for computer vision use cases using AWS Panorama," AWS said this week in a post announcing the news. "With AWS Panorama, companies can use compute power at the Edge (without streaming video to the cloud) to improve their operations, by automating visual inspection tasks like improving supply chain logistics, optimizing traffic management, and evaluating manufacturing quality."
The device features the Nvidia Jetson Xavier NX system-on-module (SOM) with 21 tera operations per second (TOPS), 8GB of memory, and starts with 256GB of SSD storage. It is cheaper than the AWS appliance ($2399 vs $4,000) and has more storage, but offers lower GPU performance and lower IP rating (IP51 vs IP62).
"We are excited to be working with Lenovo and Nvidia, two market leaders in edge technology," said Ankur Mehrotra, Director of AWS AI, said of the partnership last year. "This new product brings together strong GPU performance from Nvidia, hardware system expertise from Lenovo, and scalable computer vision from AWS into a cost-effective and competitive package that customers can use to solve business challenges across many use cases."
"AI applications at the edge have enormous potential for the intelligent transformation of business, like using computer vision to track warehousing and logistics operations or automating manufacturing processes," added Jon Pershke, Vice President of Strategy and Emerging Business for Lenovo's Intelligent Devices Group. "The ThinkEdge portfolio is expanding to include the power, performance, and flexibility customers need to build next-level edge networks".
Where AWS' Panorama is available in US East (N. Virginia), US West (Oregon), Canada (Central), Europe (Ireland), and Asia Pacific (Sydney and Singapore), Lenovo's appliance is available for purchase on its website and in more than 165 countries including the United States, Canada, Australia, New Zealand, Japan, Singapore, Malaysia, United Kingdom, and the European Union.