Lenovo has delivered what it says is the world's largest, next-generation Intel-based supercomputer at the Barcelona Supercomputing Center (BSC).
The 11.1 petaflop high performance computing (HPC) system, called MareNostrum 4, is at the Chapel Torre Girona at the Polytechnic University of Catalonia, Barcelona, Spain, one of the most beautiful data centers in the world.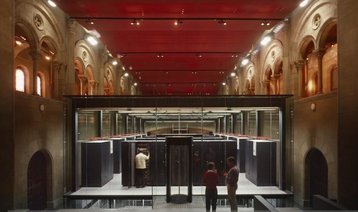 God, science and Lenovo
The HPC system will be used for science research including human genome research, bioinformatics and biomechanics to weather forecasting and atmospheric composition. 
It features 3,400 nodes of Lenovo's next-generation servers, with Intel Xeon scalable processors, interconnected by more than 60 kilometers of Intel Omni-Path Technology 100 Gbps network cabling.
While there are plans to expand the system, it is currently the 13th most powerful supercomputer according to the TOP500 list.
"The fast delivery, installation and optimization of the MareNostrum 4 system at BSC, showcases Lenovo's end-to-end, high-performance computing strength," Kirk Skaugen, the recently-appointed president of Lenovo data center group, said.
"Building on our 25 years of history in x86 server computing and our number one position in x86 server customer satisfaction and reliability, our goal at Lenovo is to be the largest supercomputing company on earth helping solve [humanity's] biggest challenges through the rapid advancement of technology and innovation."
Madhu Matta, VP & GM of HPC and AI at Lenovo, added: "From the lab to the factory, to the on-site implementation teams, the delivery of a system of this size and complexity demands a superior level of integration and skill.
"It requires a focus on a holistic customer experience that very few companies are capable of delivering."
The company, which this week refreshed its data center lineup, also announced plans to upgrade its Global HPC Innovation Center in Stuttgart, Germany with 6,000 cores of the next-generation Intel Xeon scalable processors and Nvidia GPUs.