Lenovo Data Center Group and Intel will deliver a 26.7 petaflop high performance computing system for the Leibniz Supercomputing Centre (LRZ) of the Bavarian Academy of Sciences in Munich, Germany.
Named SuperMUC-NG, the supercomputer will be used for scientific research in areas such as astrophysics, fluid dynamics and life sciences when it goes live in late 2018. The HPC installation will also feature the 20,000,000th server shipped by Lenovo.
MUCing things up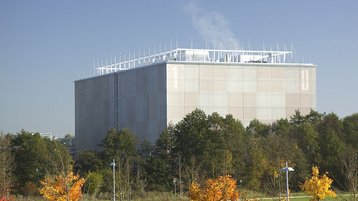 The SuperMUC-NG will consist of nearly 6,500 nodes of Lenovo's ThinkSystem SD650 servers, featuring Intel Xeon Platinum processors with Intel Advanced Vector Extensions (Intel AVX-512) and interconnected with Intel Omni-Path fabric.
The system will be water-cooled, which Lenovo claims will deliver 45 percent greater electricity savings when compared to an unidentified "similar, standard air-cooled system."
"Lenovo is committed to providing research institutions like LRZ with not only sheer computing power, but a true, end-to-end solution that can help effectively and efficiently solve critical humanitarian challenges. We're pleased to be working on this next-generation project in partnership with Intel," Scott Tease, executive director for HPC and AI at Lenovo Data Center Group, said.
"The new SuperMUC-NG installation will provide LRZ with greater compute power in a smaller data center footprint with drastically reduced energy usage through innovative water-cooling technology, offering researchers a comprehensive supercomputing solution that packs more performance than ever to accelerate critical research projects."
Trish Damkroger, VP of technical computing at Intel, added: "Global research leaders like LRZ are driving insights that address not only some of the most complex problems we face, but that also make meaningful improvements in all of our lives. Intel offers the technical foundation that, when combined with the solution expertise of Lenovo, delivers the efficient performance and ease of programing to help LRZ's researchers drive more discoveries with deeper analytics than have ever been possible before."
LRZ is already home to SuperMUC, an IBM-Intel system which was the fastest European supercomputer when it entered operation in 2012.