A 52-year-old man has died after being electrocuted by a live high-voltage line as he worked on a fiber optic cable in Hamilton, New Jersey.
The man has been identified as Dean Kitchin, of Cherry Hill, New Jersey.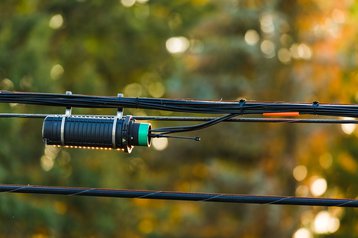 The incident took place in the early hours of Wednesday morning (March 1), with Kitchin working from a van-mounted lift in Hamilton.
Kitchin, who worked for local telecoms contractor Legacy Fiber, was hanging fiber optic cable when he was electrocuted, the Occupational Safety and Health Administration said. Legacy Fiber has yet to comment on the situation publicly.
Kitchin's body was found by the local police force after officers responded to reports of a motor vehicle fire.
In a statement, Hamilton Police said: "Hamilton Police were detailed to 11 South Gold Drive on a report of a motor vehicle on fire. Upon arrival, officers located a white bucket truck and a yellow box truck. Hamilton Fire Department was already on scene attempting to extinguish the fire when they noticed human remains in the fire on top of the box truck. The deceased was identified as Dean Kitchin, 52. Further investigation determined Kitchin was working on fiber optic lines in the area and was electrocuted by a live power line."
An investigation is said to be underway, but it is understood that there's no indication of foul play, while CCTV captured the fatal incident.