Leeward Renewable Energy has completed the full-scale repower of its Crescent Ridge Wind Project in Tiskilwa, Illinois, which will power Amazon's operations.
The company announced this week it had completed the 54.4MW repowering – the process of replacing & upgrading power plant equipment – decommissioning nine turbines, repowering 24 legacy turbines, and constructing four new Vestas turbines.
The 2,500-acre site in Bureau County first came online in 2005. Amazon announced it had signed a PPA for a wind farm in the Illinois county in June 2021 as part of an announcement of 14 new renewable projects.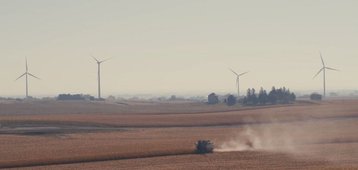 Wells Fargo served as coordination lead arranger, administrative agent, and collateral agent on the $92 million financing for the project.
"We are pleased that our Crescent Ridge project is operational and are proud to have provided jobs and other economic benefits to the Tiskilwa community throughout the construction and repower process," said Leeward VP of Project Management and Construction, Sam Mangrum. "I would like to thank the local landowners for their support and look forward to continue working closely with them in the years to come."
Leeward is a portfolio company of OMERS Infrastructure, an investment arm of Canadian pension fund OMERS. Leeward owns and operates a portfolio of 22 renewable energy facilities across nine states totaling approximately 2GW of generating capacity. The company has around 17GW of capacity in develop across a number of projects in the US.
Chris Loehr, Chief Financial Officer at Leeward, added: "We were thrilled to continue our strong relationship with Wells Fargo and Santander in financing the construction and ongoing operations. The respective commitments made by these established companies demonstrates their confidence in our technology and team to deliver clean, reliable energy."