This Wednesday, President-elect Donald Trump is to hold a tech summit at his tower in New York, with a select number of Silicon Valley's most powerful members set to attend.
The CEOs of Alphabet (Google's parent), Apple, Microsoft, Cisco and several other technology giants will attend the meeting, the first real overture from Trump's campaign to an industry he has mostly ignored, or rejected.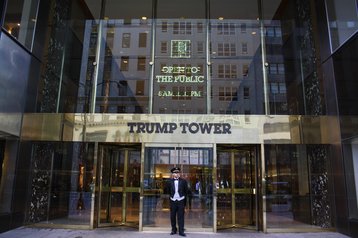 Oh, to be a fly on that wall
Recode reports that Alphabet CEO Larry Page, Apple CEO Tim Cook, Facebook COO Sheryl Sandberg, Microsoft CEO Satya Nadella, Cisco CEO Chuck Robbins, IBM CEO Ginni Rometty, Intel CEO Brian Krzanich, and Oracle CEO Safra Catz will be at the meeting.
Amazon CEO and founder Jeff Bezos was invited, and is believed to be likely to attend. Tesla and SpaceX CEO Elon Musk was invited, with the Wall Street Journal saying that he will attend, and Recode saying that he has yet to decide. WSJ also believes that Alphabet exec chairman Eric Schmidt will attend.
Hewlett Packard Enterprise CEO Meg Whitman, who called Trump a "dishonest demagogue" similar to Hitler and Mussolini, will not attend, Recode reports. "Time and again history has shown that when demagogues have gotten power or come close to getting power, it usually does not end well," she said. 
Uber CEO Travis Kalanick and Airbnb CEO Brian Chesky declined to attend as they will be out of the country, while Netflix CEO Reed Hastings, Salesforce CEO Marc Benioff, Slack CEO Stewart Butterfield and Dropbox CEO Drew Houston confirmed that they will not attend.
Invites were sent out by Trump's chief of staff Reince Priebus, his son-in-law Jared Kushner and transition team member Peter Thiel. 
Thiel, head of Palantir, the corporation that specializes in big data mining for the government, and member of the board at Facebook, was one of the few members of the tech community to openly support Trump during his campaign. Silicon Valley, and the technology industry as a whole, mostly rejected Trump, supported Hillary Clinton, or kept out of the campaign.
Notably among the list of potential attendees, Cook held a fundraiser for Clinton, Sandberg publicly supported her, and Bezos criticized Trump (offering to send him to space with one of his Blue Origin rockets). Bezos also owns The Washington Post, which repeatedly wrote about Trump in ways that the President-elect has complained about.
Perhaps the individual who bet most heavily on Clinton was Eric Schmidt, who actively helped her campaign - in particular, Schmidt funded The Groundwork, a big data group aimed at helping the Clinton team win the election.
Previously, Schmidt campaigned with Obama and was an informal policy adviser to the President. He served as a member of President Obama's transition advisory board and is a member of the United States President's Council of Advisors on Science and Technology - for now.
After Trump's election victory, the response from the tech community has mostly been cautious and muted. IBM's Ginni Rometty, however, wrote to the President-elect offering her company's services, and was then made a member of the President's Strategic and Policy Forum.
A lot at stake
Many of the corporations in attendance enjoyed close relationships with the current Obama administration, and spent heavily on lobbying - up until October this year, the tech industry spent $162 million on lobbying according to the Center for Responsive Politics.
Alphabet was the most active - it spent $11.9 million and had 85 registered lobbyists lobbying on issues from antitrust, to labor, to patents, according to the data. Amazon came in second, spending $8.6 million and employing 54 lobbyists to lobby on issues including trade, taxes, immigration and drone regulations.
While the tech industry, like all other large industries, will be eager to see Trump lower business and repatriation taxes, of concern are his views on net neutrality, antitrust enforcement, H-1B visas, cyber security, and surveillance.
"I plan to tell the President-elect that we are with him and will help in any way we can," Oracle's Catz told Recode.
"If he can reform the tax code, reduce regulation and negotiate better trade deals, the US technology industry will be stronger and more competitive than ever."
Another matter those in attendance will hope to resolve is what Donald Trump's views on the the companies in attendance actually are.
At one point during the campaign he called for people to boycott Apple over the company's refusal to unlock the phone of one of the San Bernardino shooters (although his Twitter account continued to occassionally tweet from an iPhone), he said of Bezos: "He's got a huge antitrust problem because he's controlling so much," and he said that the "Google search engine was suppressing the bad news about Hillary Clinton."