Kao Park, a new science and technology park at Harlow just outside London, has received planning approval for Kao Data, planned to be the UK's largest campus data center.
The site will have a total of 150,000 sq ft (14,000 sq m) of white space, in four data centers, each of which will have four halls and three floors. Kao Park is intended as a science cluster, located at Harlow on the main road to Stansted Airport and Cambridge (the M11). The site is named after Sir Charles Kao, who won a Nobel Prize for physics, for his creation of optical fiber cables while working at the Kao site 50 years ago, when it was a Standard Telephone Laboratories (STL) research center.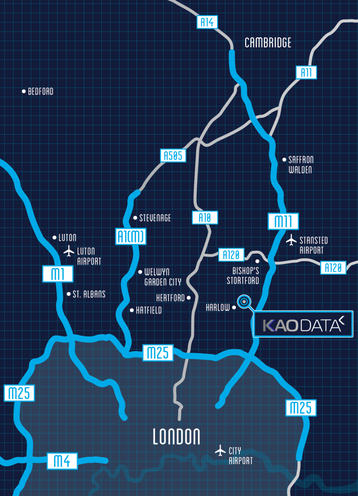 Kao gets OK
The office space at the park is well underway, with 60 percent of it let out to Raytheon, Arrow Electronics and Public Health England. The data center portion can now get started: the site is cleared and building following planning approval, building can now begin, with the first data center due to open in 2017.
Each of the 16 halls on the campus will support just over 2MW of load with 8.7MW available for each building. The site will have a dedicated 33kV/11kV 43.5MVA sub-station. The site is well served by international fiber, following its use by STL, later to become Nortel Networks. 
The building plans suggest it will have BREEAM 'Excellent' credentials, and a power usage effectiveness (PUE) less than 1.2. The site will have good water usage and carbon usage as well as 100 percent green power options available. 
"KAO Data Campus will provide its customers with scalable flexibility across an inter-connected campus with the highest levels of availability and resilience ensuring that the park becomes a new centre for discovery and innovation and lives up to its 50 year legacy," promised Paul Finch, chief technical officer of KAO Data Campus.
This site is the first part of the Harlow Enterprise Zone to be delivered and will be the only campus near London to provide occupiers with Grade A office accommodation (215,000 sq ft) and an onsite data center campus.
KAO Park, The Enterprise Zone and London-Stansted-Cambridge corridor have already received strong interest from life science businesses and organizations, such as defense innovation specialist Raytheon UK, and electronics supplier Arrow Electronics as well as Public Health England, which have further established the region as one of scientific discovery.