US colocation and cloud company Lambda Labs has raised $44 million in a Series B round.
While significantly smaller than hyperscale cloud companies, Lambda has carved out a niche in artificial intelligence (AI) training. It claims that the hourly cost per A100 GPU for on-demand cloud compute at Amazon Web Services is $4.10, at Google Cloud is $2.46, but at Lambda is $1.10. It is not related to AWS Lambda, Amazon's serverless, event-driven compute service.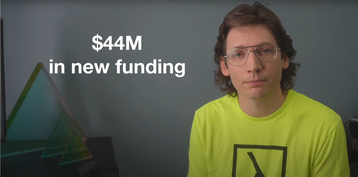 The company says that it has data centers in San Francisco, California, and Allen, Texas, but they are likely deployments in wholesale colocation facilities. DCD has asked Lambda for clarification.
The round was led by Mercato Partners and also saw participation from Quora CEO Adam D'Angelo, Cloudera cofounder Jeff Hammerbacher, OpenAI cofounder Greg Brockman, Weights and Biases founder Lukas Biewald, and Y Combinator president Garry Tan.
They were joined by existing Lambda investors including 1517, Gradient Ventures, Georges Harik, Bloomberg Beta, and Crescent Cove. Mercato managing director Ryan Sanders has joined Lambda's Board of Directors.
The new funds will help accelerate its AI cloud build-out, Lambda said.
The company will deploy thousands of Nvidia's latest H100 GPUs with high-speed network interconnects. It will also hire workers at the intersection of deep learning, GPU virtualization, network fabrics, and data center-scale computing.
"Lambda is building the best cloud in the world for training AI," said Lambda Labs co-founder and CEO, Stephen Balaban. "Over the past couple of years, we've seen extreme growth in our cloud product."