South Korean energy storage specialist Kokam has unveiled a rack-based UPS system with proprietary lithium-ion polymer batteries.
The K-UPS is based on Kokam's Ultra High Power Lithium Nickel Manganese Cobalt Oxide (UHP NMC) cells that can be discharged rapidly, so installations require fewer batteries than lead-acid UPS systems (and even some competing Li-Ion systems) to deliver the same amount of power.
This results in up to 70 percent smaller system footprint and lower weight.
Fast power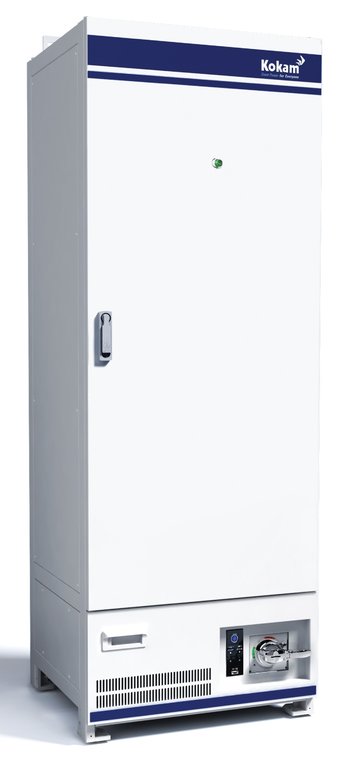 Kokam, originally a manufacturer of polymer processing equipment, developed the world's first high capacity lithium polymer cell in 1998. The company has been making li-ion batteries ever since.
Today, it manufactures more than 30 varieties of batteries, used in everything from power tools to electric vehicles to military equipment. Among other things, Kokam is responsible for a massive 36MW li-ion energy storage system (ESS) used by Korea Electric Power Corporation to regulate the frequency of the grid.
Li-Ion batteries are more compact, last longer and support higher temperature ranges than traditional lead-acid batteries, which means they don't require cooling. The latest product from Kokam adds another benefit, using proprietary chemistry to improve charge and discharge rates of UPS systems.
The company says K-UPS can deliver up to 500 percent more power at the same level of battery capacity as most lead-acid UPS systems, or up to 250 percent more power at the same level of capacity as most other lithium-ion UPS systems.
However, it is worth mentioning that li-ion UPS systems typically require a larger up-front investment than lead-acid alternatives.
"Though the UPS market is still dominated by lead-acid batteries, rising data center interest in more affordable, compact, long-lasting, lightweight UPS systems is growing the market for high power UPS systems using lithium-ion batteries," said Ike Hong, vice president of Kokam's Power Solutions Division.
"Our new K-UPS battery racks use our UHP NMC batteries to deliver UPS system providers the industry-leading power discharge rate they need to build high–power UPS systems with the price, size, footprint, weight, lifetime and other characteristics that data center developers and operators increasingly demand."