Kolos Norway AS, the company that planned to build a giant data center campus in Ballangen, Nordland, is being acquired by Canada-based Hive Blockchain.
The deal precipitates a considerable change of direction: instead of colocation, the site will now house cryptocurrency mining equipment, with the new owners planning to have 120MW of power available within a year.
Hive Blockchain has agreed to pay $9.9 million to acquire all of the issued and outstanding shares of Kolos, through the acquisition of "another Norwegian entity" – presumably its parent company.
Cryptojacking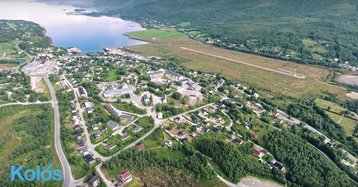 In the middle of 2017, Kolos announced plans to build one of the largest data center parks in the world, with up to 600,000 square meters of space and 1,000MW of power supply. The company planned to offer colocation and cloud services, taking advantage of Norway's cold climate, low electricity prices and favorable tax regime. The ambitious project got plenty of media coverage from mainstream publications including the BBC, CNBC and Bloomberg.
Kolos managed to attract some of the funding required to make this project a reality – but eventually had to abandon its lofty aspirations. Now, the same location will host a different kind of data center.
Cryptocurrency mining requires simplified facilities, housing specialized servers full of graphics processing units (GPUs) or application-specific integrated circuits (ASICs). Such data centers place more emphasis on power supply but have few cooling requirements and are less focused on reliability.
Hive and its strategic partner, Genesis Mining, are developing a plan to construct an initial mining facility on the property accessing 30 MW of power capacity, expecting this grow to 120MW within a year.
Hive notes that the campus will be powered by 100 percent renewable electricity, and that it has full support of the local municipality
"Kolos will be a flagship data center project for Hive for years to come and has the potential to expand to more than 1GW, or 1,000MW, of green hydroelectricity consumption dedicated to blockchain infrastructure," said Harry Pokrandt, CEO and director of Hive.
"For context, our advanced mining operations in Iceland and Sweden will collectively represent 44.2MW of consumption – also from green sources. This acquisition provides Hive with significant flexibility for long-term growth. Our vision is to scale the project in phases to be among the largest and most energy-efficient data centers in the world. We continue to explore non-dilutive financing alternatives to commence the build-out as soon as possible."
The deal is expected to close within 60 days, subject to customary closing conditions.