Singapore's Keppel Data Centres Holding (KDCH) and Alpha Data Centre Fund (Alpha DC Fund) have agreed to develop and operate a greenfield data center for a third-party customer in the State of Johor, Malaysia.
KDCH is a 70-30 joint venture between Keppel Telecommunications & Transportation (Keppel T&T) and Keppel Land, while Alpha DC Fund is a collaboration between Keppel Data Centres and Alpha Investment Partners, itself a wholly-owned unit of Keppel Capital.
Data and research hub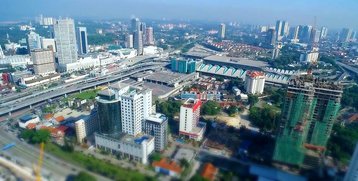 The data center is situated within an industrial park earmarked to become a "data and research hub for the state," according to the press release. The sentence likely describes the Sedenak Iskandar Data Hub – a report in June pointed to the possibility of it being renamed as the Sedenak Iskandar Data and Research Hub. The campus has 351 acres of land allocated specifically for the data center industry, with access to 600MW of power.
The new KDCH/Alpha DC Fund data center will have a gross floor area of 100,495 square feet with "Tier III equivalent" specifications. The facility is expected to be completed in 2020 and will be fully leased to a single customer.
The customer in question has the option to buy back the data center within an agreed period, Keppel Corporation said. This is the first data center deal by Keppel T&T and the customer, according to a filing with the Singapore Exchange (SGX).
Cloud giant
Aside from the fact that a single entity is taking up the entire data center, official statements and records with the SGX point to the customer as one of the top three cloud operators globally.
With Amazon Web Services (AWS) and Google having already made substantial investments into multiple data centers in Singapore, and Alibaba Cloud already having a presence in Kuala Lumpur, the customer is understood to be Microsoft, and its Azure Cloud. Indeed, rumors of the impending deal were floating around as early as May this year.
"Enterprises have been moving to rationalize their ageing data center infrastructure, including moving many workload requirements to the cloud. In response, major cloud service providers and technology companies are expanding rapidly outside of top tier data center markets to cater to this demand," Wong Wai Meng, CEO of Keppel Data Centres, said.
"The proposed transaction enables the company to land the first data center deal with the third-party customer, which strategically opens doors to develop and operate other potential projects for the third-party customer in Asia Pacific and Europe," Keppel T&T stated in a filing with the SGX.