British telecommunications and IT services provider Kcom Group has agreed to sell most of its fiber network to CityFibre for £90 million in cash.
CityFibre CEO Greg Mesch called it "the most significant event to take place in the UK's digital infrastructure market in a decade."
The deal includes cables, ducts, optical distribution frames and patch cords, and could enable CityFibre to better compete with British Telecom, which currently dominates the UK wholesale networking market.
Kcom Group will retain ownership of network switching, transmission, control and application elements. It will also retain ownership of all network assets in Hull and East Yorkshire, where the company was born and still maintains a near-monopoly on broadband and telephone services.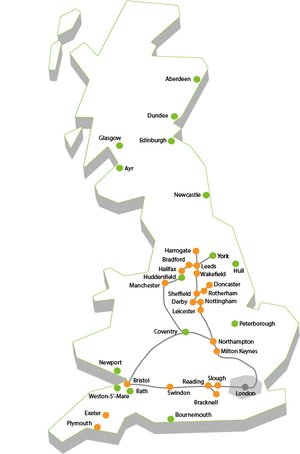 The enemy of my enemy
Kingston Communications, a predecessor to Kcom, was established more than a century ago to manage the first municipal telephone network in the Kingston upon Hull area in the north of England. It was the only such network not to be absorbed by the Post Office Telephone department, which eventually became BT.
Thanks to Kcom, throughout the years Hull remained the only place in the UK not served by BT – even the city's telephone boxes were a different color.
Meanwhile CityFibre is the UK's only nationwide, wholesale provider of dark fiber and would benefit from additional infrastructure that could help it compete against BT.
The deal between the two would considerably expand the reach of CityFiber while allowing Kcom to maintain its core interests and reduce net debt, which currently stands at £13 million.
The acquisition includes 1,100 km of duct and fiber cables across 24 UK cities, as well as another 1,100 km of national long distance networks that connects these cities to major data center locations across the UK.
Under the terms of the deal, Kcom will be granted continuous access to CityFibre's full national footprint for the next five years, at the cost of £5 million per year.
"Today's announcement unlocks considerable value in relation to an under-utilized asset, built more than ten years ago and which is no longer core to our strategy," said Bill Halbert, CEO of Kcom Group.
"Over the first half of the financial year, there were encouraging signs that our business transformation is starting to deliver results and the proceeds from this transaction offer us the opportunity to accelerate investment in those plans, without the need for any material increase in our indebtedness."
The deal is expected to close in January 2016, subject to approval by CityFibre shareholders.