Critical infrastructure specialist Schneider Electric has announced that Kao Data, the upcoming data center campus 30 miles away from London, will be controlled using StruxureWare data center infrastructure management (DCIM) software.
Kao Data is set to become one of largest data center projects in the UK, located on the site where Sir Charles Kao first developed fiber optic communications in the 1960s.
The first facility on campus, Kao Data London One, will offer up to 8.7MW of IT capacity and is expected to host its first customers at the end of 2017.
"The software management platform is a key strategic decision – something we have to get right as we expand to meet customer demand in a phased manner across the entire data center campus. After a hard look at what was available on the market, as well as taking on board the views of our potential customers, Kao has chosen to standardize on the StruxureWare for Data Centers DCIM suite," said Paul Finch, COO at Kao.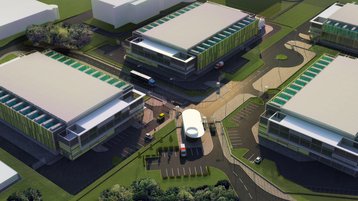 DCIM at scale

Kao Data is part of Kao Park, a £250 million development located within the recently established Harlow Enterprise Zone, just a short trip from London and close to both Stansted Airport and Cambridge.
The park will offer a combination of office space and colocation facilities. Tenants that have already signed up for office space include Arrow Electronics and Raytheon.
The data center campus will eventually grow to four buildings, each split into four halls and designed over three floors, totaling around 150,000 square feet of white space. It will require the construction of a 43.5MVA sub-station, to be delivered by Matrix Networks.
Schneider's StruxureWare is a popular infrastructure management platform that integrates power management software (PMS), energy management software (EMS) and building management software (BMS) functions. It is available in several versions designed for specific industries, including data centers.
"At Kao, we want to achieve leadership in delivering state-of-the-art colocation data center infrastructure. It makes sense for us to turn to a leader in DCIM technology to enable Kao to be responsive, flexible and agile to the requirements of a wide range of colocation customers," saidJan Daan Luycks, CEO at Kao.
"Using StruxureWare for Data Centers, Kao have implemented a solution which eliminates integration costs and time, reduces risk, and simplifies commissioning and operations. Importantly, it this will deliver value to Kao customers in the colocation space," added Matthew Baynes, Colocation and Telco Segment director at Schneider Electric.