Juniper Networks has announced new hardware modules for its SRX5800 Services Gateway, helping it process up to 2 Terabits per second in Internet Mix firewall mode.
Juniper says this makes SRX5800 the industry's fastest firewall – although it would only reach this level of performance when using Express Path capability, which prioritizes certain traffic types.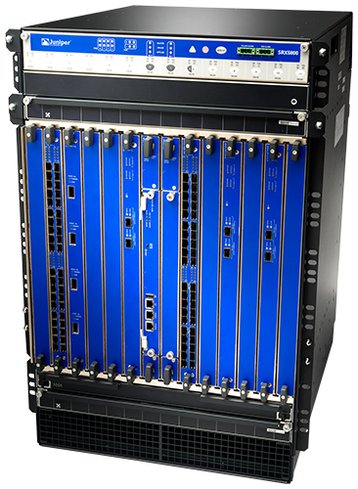 Double everything
The SRX5800 is intended for service providers and large businesses. It is based on Juniper's Junos operating system and able to handle up to 100 million concurrent sessions, as well as featuring a 100 Gbps intrusion prevention system.
The appliance will be able to handle more traffic than any other Juniper firewall, thanks to third generation input/output cards, new system control boards and an enhanced midplane chassis.
Each of Juniper's latest line cards supports two packet forwarding engines (PFE) and a high density configuration of two 100GbE and four 10GbE high speed interfaces, offering twice the bandwidth of the second generation cards.
When combined, these cards deliver up to 2Tbps of throughput in a single chassis using Express Path optimization, which identifies traffic flows that do not require additional inspection or deep processing. However Juniper assures that an increase in speed doesn't come at the expense of security.
"With Juniper's latest performance advancements, the company is elevating industry standards and empowering businesses to accelerate time to enforcement with the fastest available throughput on the market today," said Christofer Hoff, vice president and security CTO at Juniper.
Third generation line cards and control boards will be available in a new, enhanced SRX chassis, but can also be used in current-gen service gateway models and in mixed configurations. They will appear on sale during the first half of 2015.
Earlier this month, it emerged that Juniper left the OpenDaylight SDN project, which it helped establish in 2013.