JE Dunn Construction has added 16,000 square feet (1,486 sq m) of white space to Cavern Technologies' data center in the Meritex Caves in Lenexa, Kansas.
Set 125 feet underground, the facility has over 300,000 sq ft of available space in the 3,000,000 sq ft Meritex Lenexa Executive Park.
There's a world going on underground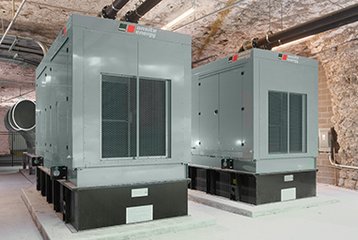 Bell/Knott & Associates acted as the architect and Gibbens Drake Scott as the mechanical, electrical and plumbing design firm for the expansion to the SSAE 16 SOC 1 Type II and SOC 2 Type II certified facility.
"It's nearly physically impossible for someone to put together a more cost-effective and secure solution," Cavern Technologies president John Clune said.
Natural limestone caves protect the facility from above-ground natural disasters, like hurricanes and tornadoes. The company added that the structure is fully environmentally contained, with self-closing doors, sealed exterior penetrations and vapor barriers.
Building underground has proved particularly attractive to data center operators around the world - to name but a few, there is the Iron Mountain facility in Pittsburgh, the Bahnhof bunker in Pionen, Norway's 1.3m sq ft mine data center, Green Mountain data center inside a former NATO bunker, as well as a Paris facility built in an abandoned nuclear fallout shelter.