Kao Data has appointed British infrastructure specialist JCA Engineering to deliver the first phase of a £250 million data center campus in Harlow, just outside London.
Kao Data is a part of the Kao Park, a large upcoming business and technology park located at the birthplace of fiber optic networking.
The first facility on campus, Kao Data London One, will offer 8.7MW of power capacity across four data halls and will be opened sometime in 2017.
Meanwhile Matrix Networks has been contracted to build a 43.5MVA sub-station for the exclusive use of the park.
Where it all began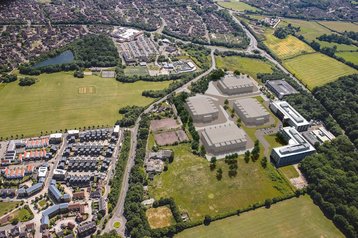 Kao Data hopes to build one of the largest commercial data centers in the UK, on the site previously owned by Nortel. The campus is located within Kao Park, a development that will offer 215,000 square feet of office space, itself located within the recently established Harlow Enterprise Zone
The name of the park honors Sir Charles Kao, a Chinese-born engineer who pioneered the development and use of fiber optics in telecommunications in the 1960s, something that earned him a Nobel Prize for Physics in 2009.
The campus will eventually grow to four buildings, each split into four halls and designed over three floors, totaling around 150,000 square feet of white space.
Kao Data has employed Stevenage-based JCA Engineering as the principle contractor on the project. Following completion of the below ground connectivity infrastructure, utility services and piling, construction has now started and is forecast for completion in phases through 2017.
"The announcement marks a significant milestone in the ongoing commitment to KAO Data Campus. The provision of high specification data centre facilities is essential in order to maintain the UK's position at the epicentre for technological excellence and a global hub for business connectivity," said Paul Finch, recently appointed CTO at Kao Data.
"Kao Data Campus' technical infrastructure, providing the highest standard of data resilience and operational sustainability, will make it ideally placed to support local and international businesses combined."