AMD has officially launched the Epyc x86 server processor, as it looks to challenge dominance of Intel in the data center.
Built around Zen microarchitecture and previously known as Naples, processors in the Epyc 7000 series range from the eight-core, 16-thread Epyc 7251 running at 2.1 to 2.9GHz in a 120W power envelope, to the 32-core, 64-thread Epyc 7601 running at 2.2 to 3.2GHz, with a 180W thermal design point.
Inside AMD
"Every Epyc processor is unrestrained, which means that all of the processors that we have here in the Epyc product stack are fully capable and fully featured from an I/O perspective, from a memory perspective, and from a security and reliability perspective," Scott Aylor, corporate VP of the enterprise solutions business at AMD, said at a launch event in Austin, Texas, attended by DCD.
"This is in contrast to market segmentation that would force users to buy up the stack to get the features they need. We wanted to give our customers and partners the ability to purely buy on the performance level that they need without having to compromise on enterprise and cloud-class features that would be needed in those systems."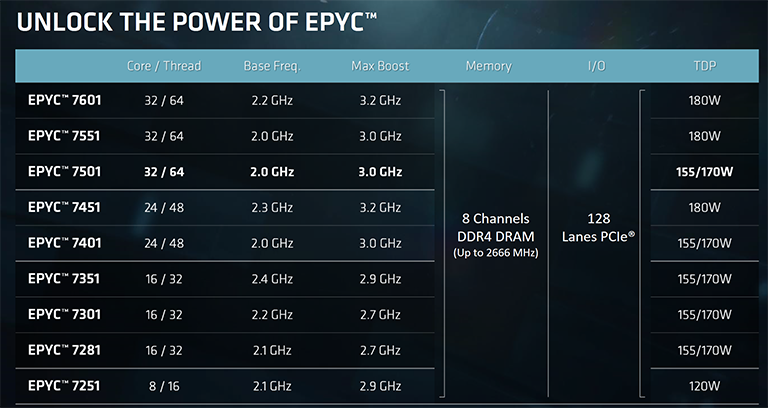 "On top of the two socket solution, we have this concept of a no-compromise one socket solution," Aylor said. "We've architected Epyc with this one socket mindset in mind, and this really gives you this capability to right-size or optimize your servers. There's many different statistics about how many OEM systems that are two socket capable are populated with one socket, and those again are things that are opportunities for optimization.
"This also drives lower power consumption and up to 20 percent lower capex."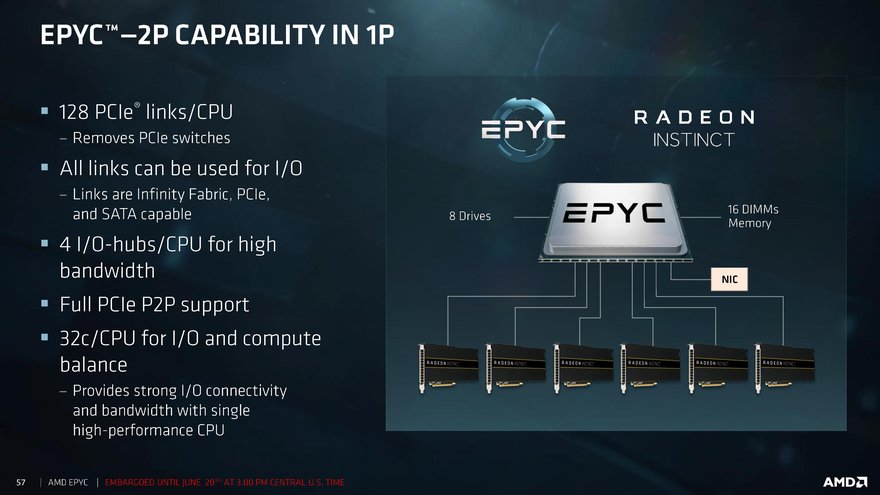 Pricing was a consistent theme at the event, with the company claiming that not only is the chip cheaper than its competition, but because it can do more, "when you buy an Epyc processor, you will be able to get 70 percent more performance at the same basic pricepoint," Aylor said.
"We offer very disruptive levels of value where we deliver a heck of a lot more performance all at the same price point. We think this is going to be a very attractive point where people want to take the assets that they have, they want to take and get more performance out of the server ecosystem they build. They can absolutely do that."
Among the features of the Epyc processor AMD was keen to tout were advances in security technology, like Secure Memory Encryption that allows for full encryption of data stored in DRAM. "We also have a capability called SEV, Secure Encrypted Virtualization, and this allows individual virtual machines on the part to be assigned a unique cryptographic key that means that they are cryptographically isolated from each other, but they are also isolated from the OS hypervisor and administrator layer as well," Aylor said.
"What this does is mean that you can have full memory encryption, so if you had a server that you physically don't have on-prem or you don't own, you can know that the memory as well as the virtual machines that live on it could be made secure. This really facilitates secure multi-tenancy."
AMD's return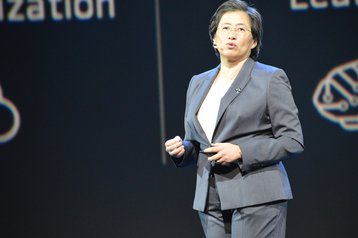 "We're here to stay," CTO Mark Papermaster said. "We are committed to our products today and to our customers for the future."
Dan Bounds, senior director of data center products and enterprise solutions at AMD, added: "For AMD to penetrate the market, win hearts and minds, to create value that customers are willing to pay for, we have to be disruptive. To come in and have a product that looks and smells like the competition really isn't useful."
"With our Epyc family of processors, AMD is delivering industry-leading performance on critical enterprise, cloud, and machine intelligence workloads," Dr Lisa Su, president and CEO of AMD, said.
"Epyc processors offer uncompromising performance for single-socket systems while scaling dual-socket server performance to new heights, outperforming the competition at every price point. We are proud to bring choice and innovation back to the data center with the strong support of our global ecosystem partners."
That ecosystem of partners will be crucial if AMD hopes to increase its market share - which Su told DCD "could generously be described as rounding to one percent" - and provide true competition to Intel.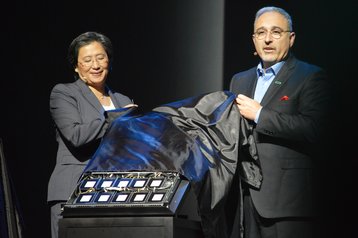 At the launch event, HPE, Dell, Asus, Gigabyte, Inventec, Lenovo, Sugon, Supermicro, Tyan and Wistron said that they would deliver products based on Epyc. "The Epyc processor represents a paradigm shift in computing and will usher in a new era for the IT ecosystem," Antonio Neri, executive VP at HPE, said.
"Starting with the Cloudline CL3150 and expanding into other product lines later this year, the arrival of Epyc in HPE systems will be welcomed by customers who are eager to deploy the performance and innovation Epyc delivers."
Microsoft was also on hand at the event to promise that it would soon use Epyc for its cloud serivces. Azure corporate VP Girish Bablani said: "To power Azure, we require the most cutting-edge infrastructure and the latest advances in silicon which is why we intend to be the first global cloud provider to deliver AMD Epyc."
In a statement, Intel said: "We take all competitors seriously, and while AMD is trying to re-enter the server market segment, Intel continues to deliver 20-plus years of uninterrupted data center innovations while maintaining broad ecosystem investments. Our Xeon CPU architecture is proven and battle tested, delivering outstanding performance on a wide range of workloads and specifically designed to maximize data center performance, capabilities, reliability, and manageability.
"With our next-generation Xeon Scalable processors, we expect to continue offering the highest core and system performance versus AMD."
While Epyc handily outperforms Broadwell, Intel's Skylake chips will be out later this year, with the company promising it will help it maintain its 98 percent share.
But AMD is prepared: "We didn't set out to compete with Broadwell," Su told DCD. "We know what is coming."