An updated proposal to build a data center on a golf course in Itasca, Illinois, was met with opposition from village officials and residents when they were presented this week.
The presented proposal outlined plans for three 50 ft tall buildings each spanning 100,000 sq ft across a 34-acre site, with construction lasting between five and 10 years.
Mayor Jeff Pruyn favors keeping the golf course zoned R1, for single family homes, with all other trustees in agreement.
"For me to change it from being R1, you would have to find something that's less impactful on the homes," he said. "We would rezone it if it's a benefit to the village, the residents who live by it and the landowner. I don't ever see that as a possibility."
Resident John Dakajos said that while he has no problem with anybody trying to make an honest buck in this world, "when you put an eyesore like that in front me, that's when I have a problem."
Itasca Country Club owner Larry Swets told the Daily Herald that he was disappointed at the reactions to the proposal, and is considering whether to move forward.
"Last night's meeting was disappointing, not just because of the outcome, but more importantly due to the village trustees' process or lack thereof," he said.
"We were shocked at last night's behavior because the trustees seemed focused on shooting down the whole process and made no observable effort to provide a good faith discussion."
Golf course data center plan is a bogey with locals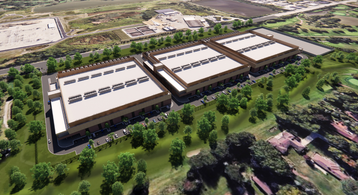 This week's proposal is the latest move in an ongoing effort to build a data center on the site. In August 2020, Itasca Golf Investors LLC submitted an application to convert part of the Itasca Country Club's property to a two-story data center, but immediately faced resistance from locals who want to preserve the club's almost 100-year history and local scenery. In November, the club withdrew its petition for the proposal but aimed to return with a new submission at a later date.
This week the club announced Bridge Development Partners has signed a contract to buy the property, contingent on approval from the village board. Swets reportedly brought the plans back because of Bridge's involvement in the new proposal.
Upcoming elections on the Itasca Village Board could have an impact on the final outcome. Nominees on the ballot are divided on the issue with some arguing the proposals should at least be considered. Elections will be held in April.
Dustin Sneath, a candidate for trustee and an IT superintendent at the Elk Grove Park District, said a data center would be useful to the community and the golf course is the right location, but should be built on a smaller scale.
"This was pure gatekeeping. It's disappointing that the board just outright dismissed this idea and potentially scared off someone trying to do a positive thing for the village," he said.
Joshua Beauchamp, another trustee candidate, also supports the data center.
Thomas Pawlicki, a mayoral candidate who lives adjacent to the golf course, led opposition last October. He said that while a data center could be beneficial for the area it should not be built on the golf course.
"This is not where it should be. Shrubbery and trees being put around the buildings would not improve the view and make it acceptable to the village," he said.