Power and cooling specialist IT Power has announced a range of container-based data centers called 'databloks'.
The company uses standard ISO shipping containers of various lengths and fits them out according to customer specifications, with a typical datablok taking between 8 and 12 weeks from the design stage to finished product. The service is primarily aimed at customers in its native New Zealand.
"We've been thinking about data centers in a whole new way," explained Jason Lewis, director at IT Power. "What we've created is a solution that offers responsiveness, high availability and efficiency, all at an affordable cost. You move, and your ICT infrastructure moves with you."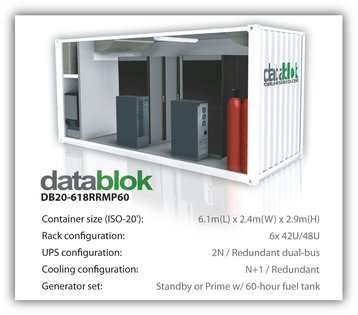 Building blocks

Containerized data centers offer plenty of benefits. They can be deployed in a fraction of the time it takes to erect a bricks-and-mortar facility, useful to help grow an existing data center in small increments or maintain a data center where carrying out building work is impractical.
These versatile enclosures can withstand any weather conditions - containerized data centers have been popping up in the deserts of Afghanistan and beyond the Arctic Circle - and are perfect for emergency response operations.
IT Power offers a choice of 10, 20, 40 or 45 foot ISO shipping containers. It will install all the required access control, insulation, power, cooling, security and remote management elements, according to requirements of individual customers.
The company says every container is shock-proof, seismically-restrained, fire resistant and climate-controlled, and costs a fraction of what some global vendors charge for their equipment.
"Pricing from multi-national vendors typically starts at around NZD1 million [US$664,000], whereas we produce a datablok from NZD100,000 [US$66,400] including an integrated standby generator, all dependent on the client's specifications," said Lewis.
Hawkes Bay communications provider Unison will soon become the first New Zealand company to begin using one.
"The prime reason for choosing datablok was that it was more cost effective than moving the data center within our current building, and gave additional benefits of being external to the main site," said Mike McGarvey, CEO of Unison.
Last month, British critical infrastructure vendor iDaC Solutions launched a similar tailor-made container service for customers located in the UK.