Commercial property developer JCD Group is planning to build a €200 million ($225m) data center campus in Cork, Ireland.
The company has submitted a planning application that describes several buildings and would total 25,550 square meters when complete. If the application is successful, the site could welcome its first tenants in the middle of 2017.
The development is expected create 150 permanent jobs and hundreds more during construction.
Transatlantic hopes and dreams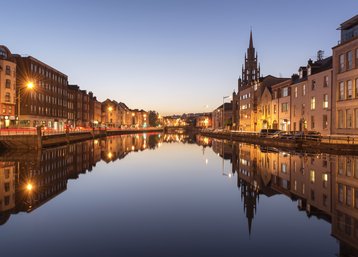 Ireland has become a crucial market for data centers and cloud services, thanks to good quality networks, ample supply of wind power and one of the lowest corporate tax rates in Europe.
According to the Irish Examiner, the JCD Group is awaiting permission to develop a 32-acre site at the former Mitsui Denman plant in Little Island. The location has direct access to a 60MW electrical substation, and the company is planning to construct three separate buildings as part of phase one.
"Cork's infrastructure will be significantly enhanced as a result of this planned development and will position this region in particular to grow the information and communications technology, financial services and digital sectors for years to come," Cork Chamber chief executive Conor Healy told the newspaper.
The development is meant to tap into opportunities presented by the recently finished Hibernia Express transatlantic cable system, which has landing points in Cork and Halifax, Canada. Hibernia Express is the first new transatlantic cable system to be deployed in more than 12 years.