European startup IQM Quantum Computers are the winners of a contract to build Finland's first quantum computer for the VTT Technical Research Center of Finland.
Finland's Minister of Economic Affairs, Mika Lintilä, announced the identity of the tender winner at a joint virtual breakfast event arranged by the Minister's department and VTT.
Finnish potential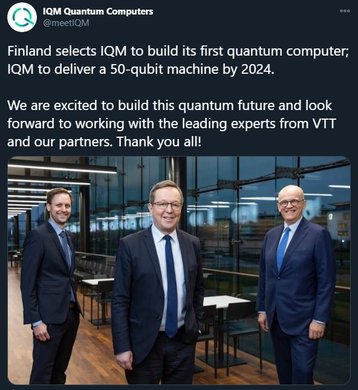 The system will be constructed in the town of Espoo, Finland, at VTT's and Aalto University's Micronova, where the clean-room environment used to manufacture the quantum components is located. Work will start before the end of 2020 and the project is receiving €20m ($23m) in funding from the Finnish government.
Finnish politician Mika Lintilä said: "Finland has the potential to be the European leader in quantum technologies. I look forward to witnessing the opportunities that quantum will present to Finnish and European businesses and the competitiveness of the entire region."
IQM was selected after winning an international tender process. Earlier this month, IQM announced it had completed its Series A funding round, raising around €39m ($46m).
Jan Goetz, CEO of IQM, said: "We are proud to be part of this cooperation and excited to work with the leading experts from VTT. This project is extremely prestigious for us and will offer a great opportunity to work together in ways that help build the future of quantum technologies."
In the first phase of the project, the team hopes to get a functioning five-qubit quantum computer up and running, and by the end of the third phase in 2024, it is hoped the project will be a 50-qubit device.
IQM will work on the computer while VTT will work on other areas like quantum sensors and quantum-encryption algorithms, which can be used to protect information networks.
"By investing in disruptive technologies like quantum computing, we invest in our future ability to solve global problems and create sustainable growth," said VTT's president and CEO Antti Vasara.