Quantum computing firms IonQ and Rigetti both released their quarterly earnings this week. Both companies posted losses, but while IonQ announced its latest quantum hardware, Rigetti has pushed back the timeline of its technology roadmap.
This week IonQ announced a new quantum computer, known as Forte. The 32-qubit system uses acousto-optic deflector (AOD) technology, allowing it to dynamically direct laser beams that drive quantum gates towards individual ions. The company said this helps minimize noise and overcome variations in ion position, improving fidelity in long chains of trapped ions.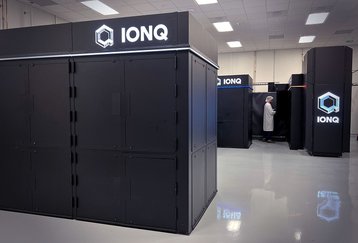 Forte is expected to be initially available for select developers, partners, and researchers in 2022 and is expected to be available for broader customer access in 2023.
"IonQ Forte is further proof that high-performance quantum computers can be designed and built so both qubit count and gate fidelity improve simultaneously. We expect that this will lead to quantum computers with increasing algorithmic qubit numbers that will enable the search for solutions to the most complex problems of our time," said IonQ chief technology officer, Jungsang Kim. "IonQ's quantum systems, including Aria and Forte, are at the forefront of achieving practical utility. The most impactful quantum computing applications will come to light when leading innovators seeking new ways to tackle their formidable problems get to work with the best systems, and customize them for their unique needs. We can't wait to get these systems in people's hands."
The company also announced its latest earnings results. For Q1 2022, IonQ recognized revenue of $2 million and achieved bookings of $4.2 million. Net loss was $4.2 million and adjusted EBITDA loss was $10.3 million.
"We continued to execute well in the first quarter, delivering financial results and operational achievements that exceeded our expectations, as well as breaking new barriers with the completion of our next generation of quantum computers, IonQ Forte," said Peter Chapman, president and CEO of IonQ. "The first quarter was also characterized by cutting edge applications research, expanding public access to IonQ Aria, and the growth of our sales organization.
Rigetti pushes back technology roadmap
Rigetti Computing, another quantum computing company that went public via SPAC, released its quarterly results this week.
Revenue for the first quarter of fiscal year 2022 was $2.1 million, compared with $2.4 million in the prior year period. The company said the decline was due to the completion of the first phase of a large government agency project in the first quarter of 2021. The second phase of this project is expected to begin in 2022.
Total gross profit in the first quarter of 2022 was $1.7 million, Net GAAP loss for the first quarter of 2022 was $10.5 million, and Adjusted EBITDA was a loss of $13.9 million in the first quarter of 2022, an increase on the $6 million loss in the prior year period.
"Rigetti delivered in the first quarter of 2022 to lay the foundation for our next growth phase," said Chad Rigetti, founder and CEO of the company. "We are excited to announce the anticipated launches of our next-generation single-chip 84-qubit quantum computer expected in 2023 and 336-qubit multi-chip processor expected later in 2023. As key touchpoints along our broader roadmap, we believe these machines will deliver increased performance across the key dimensions of speed, scale, and fidelity.
"Rigetti's technology is nine years in the making, and we believe we are at an opportunity rich period of time. Our entrance to the public markets in March was another exciting milestone that has provided us with additional funding resources and increased brand recognition. I am incredibly grateful to our team whose deep technical expertise and powerful mission-driven focus is showing the world quantum's promise."
The company also pushed back its technology roadmap on its 1,000 and 4,000 qubit systems by 12 months.
In this week's earnings release, Rigetti said it plans to introduce its single-chip 84-qubit quantum computer in 2023, a 336-qubit multi-chip processor later that same year, its 1,000+ qubit system in late 2025, and its 4,000+ qubit system in or after 2027.
The 1,000 and 4,000 qubit systems were previously due in 2024 and 2026 respectively.
The company said the new timeline was due to higher-than-anticipated labor, equipment, and system component expenses are leading to increases in the costs associated with system development.
It also noted supply chain conditions have hampered availability of materials, and that its working capital from the SPAC merger "was lower than anticipated" and as a result has "limited the company's ability to absorb these increased costs and timing factors."
The company began offering its 80-qubit Aspen-M system commercially in February 2022 through a cloud portal.