Scottish colocation provider Iomart has tested a novel heat pump system at its Glasgow data center, and presented the results to an event during the COP26 climate change conference in the city.
The thermal vibration bell (TVB) from Scottish startup Katrick Technologies uses a "bi-fluid" to derive mechanical energy from the data center's waste heat, which drives the cooling system. Iomart has tested a 120kW capacity TVB at its Glasgow data center, and has shown the results at an event at the Iomart data center today, attended by members of the UK and Scottish Parliaments..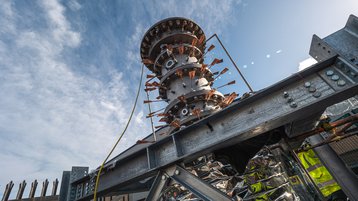 Katrick says the TVB can be used for any data centers, and the company also produces wind panels, which can harness wind power on a smaller and more effective scale than large turbines.
A new refrigeration cycle
"We have created a new refrigeration cycle, by extracting the energy from the very heat that we are dissipating," explains Karthik Velayutham, founder and co-CEO at Katrick, in a video "It has two fluids, both have different thermal and physical properties. When heat is applied, they tend to mix together and create fluid vibrations. We've got specialized fins which capture those fluid vibration and convert them into mechanical vibration."
In a phone call with DCD,. Velayutham explained further, that the system has two fluids. At the basis a high-density fluid with a low boiling point, with a low-density, high boiling point fluid above it. The lower fluid boils, and the bubbles rising through the other fluid create vibrational energy, and dissipate the heat. The TVB bell has paddles inside and out. The outside paddles radiate heat, and the motion created by the vibrations accelerates that heat loss. .
Iomart, which has committed to using renewable energy in its UK data centers, installed the TVB at its Glasgow data center in October 2021, and the initial results are promising, says Iomart CEO Reece Donovan: "Initial results have been very pleasing. We think we can save up to 70 percent of our cooling costs, and 25 percent of our overall energy usage. Data centers are a huge consumer of power globally. And it's down to us to play a much more active role in achieving a greener future for the tech industry,"
Katrick believes the system can replace conventional chillers, and can be retrofitted where those chillers are connected to a cooling circuit. The system captures low-quality heat to create motion, giving the mechanical action necessary in a chiller: "Our passive cooling solution is completely retrofittable, providing an end to end solution to passively cool refrigerants from existing systems," says a company video.
"Technologies which are easily adaptable, should be accessible to everyone around the world," says Velayutham. "We are doing testing to apply this technology to any type of data centers, whether it's air-cooled, or water-cooled or liquid-cooled, even systems that would come in five years' time."
Katrick settled on a capacity of 120kW for its units, based on visits to multiple data centers: "We measured their, their layouts, and we believe 120kW is a very good number." The unit is good for removing heat at the low temperature differences typical in Northern Hemisphere data centers, he added.
Velayutham explained to DCD that the prototype had been made by a boutique manufacturing company in Glasgow, but the system could scale up with units made in Scotland. "We have done extensive research on the costing. We want to make everything in in Glasgow. I started this in Glasgow, so I want to stick to Glasgow."