Interoute, the company behind Europe's largest cloud platform, is planning to bring its services down under by rolling out one of its 'Virtual Data Centres' (VDC) in Sydney.
The public cloud service will be delivered by the means of Interoute's own fiber network, with local peering to its other APAC locations in Hong Kong and Singapore.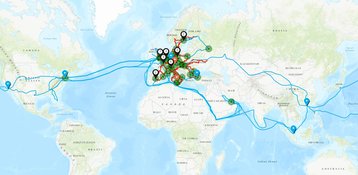 VDCs
Scheduled to come online early next year, the  facility will mark the inauguration of Interoute's 18th availability zone; the company operates points-of-presence (PoPs) in 127 cities and 30 countries worldwide, having most recently launched one in Miami, as well as VDCs in Stockholm, Istanbul and Amsterdam.
Interoute offers its services from 15 fully owned physical data centers, 17 VDCs and 33 colocation facilities, and has interconnections in third-party facilities throughout Europe.
Mark Lewis, Interoute's EVP for products and development said: "Sydney is a global city and businesses are demanding better local connectivity and compute capability to support their growth. As we continue to grow our footprint in the Asia Pacific region, opening a PoP in Sydney is an important step to providing businesses in this theatre with faster, more reliable and secure access to cloud and IT services."