Intel's Q2 2017 revenue hit $14.8 billion, a 9 percent year-over-year improvement as its PC business beat expectations, and its data center division saw revenues rise.
The data center unit grew 9 percent, while the Client Computing Group grew revenues by 12 percent.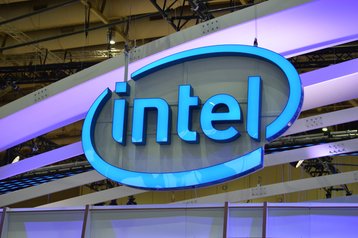 Big business
"The data center is central to our strategy and is a remarkable opportunity," CEO Brian Krzanich said in an earnings call transcribed by Seeking Alpha.
"By 2021 we expect the data center to be a $65 billion silicon opportunity, and we're less than 40 percent of the total available segment today. As we build out the adjacencies like Ethernet, Silicon Photonics and 3D XPoint memory and pull them all together with rack scale design, we'll be positioned to deliver even higher levels of performance and efficiency to our customers and increase our percentage of the total available market."
But the main bread and butter of its data center business, the x86 server market, has come under renewed competition from AMD (a subject that will be the cover feature of our upcoming magazine, out next week). After years on the sidelines, AMD recently released its Epyc chip and has high hopes of cutting into Intel's market share.
On the topic of new competition, Krzanich said: "AMD has raised up a bit with their more recent products, but you see us responding. This is a traditional performance battle that we're very accustomed to, and we're comfortable in reacting and competing very aggressively in. And so you see us coming out with our Xeon Scalable.
"You'll see us make maneuvers like we accelerate our Core i9 products, which are all the way up to 18 thread systems on the client based products. So I'd tell you that yes, we're seeing increased competitive pressure from a variety of places. But that actually will just drive us even harder, make us better in the end. And we're comfortable that we can make the right products to deliver the right performance against those."
Another part of Intel's data center business, the newly launched solid state drive Optane, seems to be off to a promising start.
Krzanich said: "We also shipped more than 200,000 units of our revolutionary Optane memory for clients, which are available via our OEM partners and channel partners and have more than 50 data center customers testing Optane SSDs currently which will ship for revenue this year, Optane DIMMs remaining on track for availability next year."
Its FPGA business, however, declined five percent. But, Krzanich said that he believed the product portfolio would see growth when the year was over, in part due to cloud customers. "At their Build Conference in May, Microsoft disclosed a major advancement in the deployment of Intel FPGAs resulting in the industry's fastest public cloud network and new technology for acceleration of deep neural networks," he said.
Intel expects to continue to see high single digit growth for the data center business throughout 2017.