Intel has revealed technical specifications for its next processor, optimized for in-memory computing and real-time analytics.
The Xeon E7 v4 CPUs feature up to 24 cores and offer the industry's largest memory capacity per socket – up to 3TB. A single system can support up to eight sockets, resulting in up to 24TB of DDR4 memory per box and enabling IT staff to easily hold entire databases in RAM. This limit can be further increased to 64 sockets through the use of dedicated node controllers.
The chip's other notable features include up to 60MB of last-level cache and support for Run Sure Technology that aims to improve reliability and minimize system downtime.
Overall, Intel says its latest effort brings up to 1.3x average performance increase across key workloads over Xeon E7 v3.
Remember everything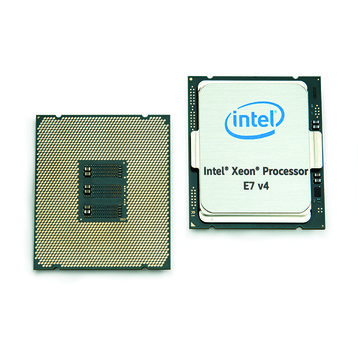 According to Nidhi Chappell, product line manager for Data Centre Group at Intel, adoption of analytics in the enterprise is still facing considerable barriers. Businesses are puzzled by complicated solution stacks, data is hard to collect and use, and hardware necessary to analyze queries in real-time is prohibitively expensive.
She told a press meeting in London that Intel was taking a number of steps to democratize access to analytics, like working with developers to optimize existing software, contributing to open source tools and making strategic investments through the Intel Capital venture arm.
Intel's greatest achievement would be to make processors that power analytics more cost-effective, while keeping the necessary reliability levels. With the latest Xeon, the company claims its silicon can deliver ten times higher performance per dollar than IBM's Power E870.
Chappell added that Intel's partners have used the new Xeon to set 25 world records in various benchmarks.
The E7-8800/4800 v4 product family includes 11 SKUs, with anywhere between four and 24 cores, clocked between 2.1 GHz and 3.2 GHz.
The chips feature hardware-accelerated encryption and promise 70 percent faster cryptography performance per core over the last generation Xeon E7 v3. They also feature the Intel Run Sure Technology that is unique to the Xeon E7 family and allows the firmware to recover from uncorrectable errors without interrupting the OS. Intel's Resilient Memory Technologies achieve the same, but for uncorrectable memory errors.
The chips include hardware-assisted virtualization, advanced telemetry features and support for the Intel Resource Director Technology which improves visibility into shared cache and memory resources.
Vendors that have already announced systems based on the Xeon E7 v4 include Cisco, Dell, Fujitsu, Hewlett-Packard Enterprise (HPE), Huawei, Lenovo and SGI.