Intel has released its highest performance storage device yet. The DC P3608 series solid-state drive (SSD) plugs directly into the PCIe slot and is able to move data at an impressive rate of 5GB/s, with available capacities of up to 4TB.
This hardware was designed for the most I/O intensive applications, for example real-time analytics and large database management. First customers already testing the device include Cray, the legendary supercomputing company from Seattle.
Faster than a speeding bullet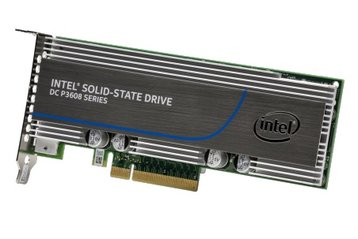 DC P3608 series SSDs are NVMe devices – meaning they connect non-volatile memory through the PCIe bus. Originally standardized in 2011, NVMe is an increasingly popular format that helps avoid bottlenecks that appear when accessing large amounts of fast flash through SAS or SATA.
DC P3608 SSDs increase the number of PCIe 3.0 lanes they are using to eight – the kind of bandwidth usually reserved for high-end GPUs - enabling flash to deliver up to 850K random read IOPS.
Intel says that its dual-controller architecture allows memory to efficiently scale with Xeon processors, evenly distributing IOP across multiple cores. Intel's latest chips feature up to 18 cores on a single die.
DC P3608 SSDs are available in capacities of 1.6TB, 3.2TB, and 4TB, in a low-profile card that would fit most servers.
"For Cray, Intel Solid State Drives (SSDs) are an outstanding solution for our high-performance computing customers running high-density, high-speed data applications, and workflows. Cray has a long history of incorporating the latest Intel technologies into our supercomputing solutions, and the DC P3608 Series is another example of how we can jointly address our customers' most challenging problems," said a spokesperson for the company.