Intel has finally launched the first device based on 3D Xpoint – a new type of memory that promises to be much faster and more durable than flash, but cost less than DRAM.
Intel Optane SSD DC P4800X is connected to a server via PCIe and can serve as an ultra-fast storage tier or an extended memory device. It is aimed at data center customers and could deliver most improvement when used for caching and database workloads.
The first model, with capacity of 375GB, is shipping immediately to early customers. Capacities up to 1.5TB and additional form factors will be available in the second half of 2017.
First products based on 3D Xpoint were originally expected in 2016 but Intel had run into problems during manufacturing. The company was also forced to revise some of its performance estimates downwards from the figures it quoted when it first announced the technology in June 2015.
Fast enough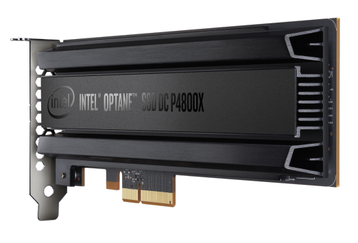 3D Xpoint (pronounced 'crosspoint') was developed in collaboration between Intel and American flash specialist Micron. This type of memory does not feature transistors and does not trap electrons to store data. Instead, it relies on layers of switch and memory cell materials that can permanently change their state.
These layers can be stacked on top of each other to produce storage devices that are denser than conventional SSDs or RAM, and yet allow every memory cell to be accessed individually.
According to Intel, the DC P4800X can deliver 5-8x faster read performance at low queue depth workloads, when compared to the company's flash-based data center SSD, the DC P3700 (which was originally launched in 2014). That's a far cry from Intel's previous claims of a thousand-fold increase in performance, but the results are still impressive.
The device delivers superior latency of around 10μs (not 'nanoseconds', as previously claimed) and high throughput – as high as 2GB/s during random writes.
The DC P4800X also offers much higher endurance than comparable SSDs, having been rated for 30 drive writes per day, for three years. Once again, impressive but nowhere near the promised thousand-fold increase over durability of flash.
The new drives can be dropped into the server without the need for any BIOS changes for an instant performance upgrade. However, to be used as part of a memory pool, they will require support for Intel Memory Drive Technology which currently only works with select applications.