Intel has revealed the Xeon D-2100 processor, a system-on-chip (SoC) for small edge data centers.
The company said that it is its fastest low power edge processor, with its benchmarks reporting up to 2.9x network performance improvement, up to 29 percent L3 network packet transfer performance improvement, and up to 2.8 storage performance improvement, when compared with the Intel Xeon D-1500 processor network series.
However, in the fine print, Intel notes: "Benchmark results were obtained prior to implementation of recent software patches and firmware updates intended to address exploits referred to as 'Spectre' and 'Meltdown.' Implementation of these updates may make these results inapplicable to your device or system."
At the end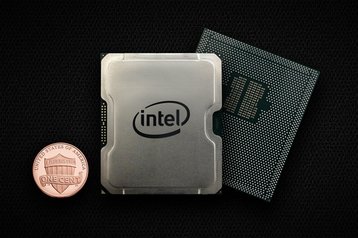 "To seize 5G and new cloud and network opportunities, service providers need to optimize their data center and edge infrastructures to meet the growing demands of bandwidth-hungry end users and their smart and connected devices," Sandra Rivera, SVP and GM of the Network Platforms Group at Intel, said.
"The Intel Xeon D-2100 processor allows service providers and enterprises to deliver the maximum amount of compute intelligence at the edge or web tier while expending the least power."
The processors include up to 18 Skylake-server generation Intel Xeon processor cores and integrated Intel QuickAssist Technology with up to 100 Gbps of built-in cryptography, decryption and encryption acceleration.
The processors come in 14 SKUs, and support up to 512GB DDR4-266 ECC RAM, run at up to 3.0GHz, support up to 32 PCI Express 3.0 lanes, and utilize Intel Mesh Architecture.