Intel has unveiled a new range of field-programmable gate array (FPGA) cards - chip systems that can be configured to accelerate specific workloads like machine learning, data analytics and video processing.
The company also announced a software platform to simplify massively parallelized hardware offloading.
The new products feature technology Intel obtained with the purchase of FPGA specialist Altera for $16.7 billion in 2015, marking the company's biggest ever acquisition.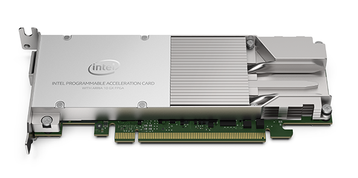 Taking FPGAs mainstream

The Intel Programmable Acceleration Card with the Arria 10 GX FPGA was designed to assist with tasks in areas like financial analysis and genomics.
It's not the first FPGA from the company, but it is the first to offer solid enterprise credentials and a software stack intended to simplify development and deployment.
"Intel is making it easier for server equipment makers such as Dell EMC to exploit FPGA technology for data acceleration as a ready-to-use platform," said Dan McNamara, corporate vice president and general manager of Intel's Programmable Solutions Group.
"With our ecosystem partners, we are enabling the industry with point solutions with a substantial boost in performance while preserving power and cost budgets."
In July, Intel's CEO Brian Krzanich reported that the FPGA business saw a revenue decline of five percent in the second quarter, but he was full of optimism about the future of this technology, predicting that the product portfolio would see growth before the end of the year, driven by cloud customers.
"At their Build Conference in May, Microsoft disclosed a major advancement in the deployment of Intel FPGAs resulting in the industry's fastest public cloud network and new technology for acceleration of deep neural networks," he said.
The Intel Programmable Acceleration Card with Intel Arria 10 GX FPGA is sampling with OEMs and is expected to be broadly available in the first half of 2018.