A co-operative development programme with Micron has resulted in Intel releasing solid state storage devices featuring 3D NAND. The four product ranges announced also include dual-port PCI Express (PCIe) interfaces for the first time, to offer high availability.
The DC P3320 and DC P3520 units have been described as "cloud focused" devices, while DC D3700 and DC D3600 have been highlighted for their redundancy and failover capabilities. All four are based on Non Volatile Memory Express (NVMe), the PCIe storage standard that reduces latency and offers higher performance, when compared to traditional SAS or SATA connectivity.
According to Intel, the P3320 and P3520 offer a performance boost of up to five times over SATA-based SSDs. The company added that the new devices are a response to CSPs, ISVs, OEMs and telcos that want to introduce new services at reasonable costs. The P3320 is available in 450GB, 1.2TB and 2TB capacities. Details of the 3520 have yet to be revealed.
The DC D3700 and DC D3600 allow for redundancy by permitting two controllers to access the same drive. Both ranges each comprise two models, offering capacities of 800GB or 1.6TB and 1TB or 2TB respectively.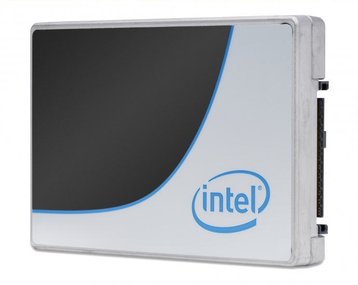 Intel and friends
All of the new drive families come under the 'Cloud for All' initiative which sees Intel invest in partner companies to accelerate software defined infrastructure (SDI) adoption through standards.
Intel is collaborating with open source communities such as CoreOS and Mirantis to merge the container and virtual machine-based applications into an integrated offering for cloud operators.
At the same time, Intel and VMware have announced a network of "Centres of Excellence" to help accelerating cloud deployments by developing custom optimizations. The centres will also offer proof-of-concept testing facilities and demonstrate cybersecurity best practices, in collaboration with The National Institute of Standards and Technology (NIST).
Yet another partner is the Cloud Native Computing Foundation (CNCF) that collaborates with Intel on what promises to be the world's largest cloud application cluster for testing applications "born in the cloud". The cluster will provide developers with a software-testing cluster of more than 1,000 Intel Xeon server nodes.
Intel is also expanding its Cloud Builders programme to include SDI use cases to demonstrate how customers can take advantage of infrastructure as a service (IaaS). The programme acts as a forum for cloud storage players to share their expertise. Intel currently has more than 300 companies signed up to its cloud, storage and network programmes.