On the first day of Computex in Taipei, Intel has taken the wraps off a server chip designed specifically to deliver high resolution video and 3D content.
The new Xeon E3-1500 v5 processor is technically a System-on-a-Chip (SoC) that features an integrated Iris Pro Graphics P580 GPU, as well as 128MB of embedded RAM.
It was designed for workloads in broadcasting, videoconferencing, 3D rendering and Virtual Reality development. Intel's GPU virtualization technology enables IT administrators to share Iris Pro compute resources among several virtual machines, something that would be especially useful for organizations running remote workstations or virtual desktop infrastructure.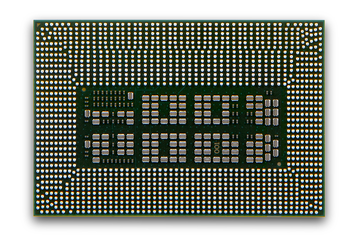 Pleasant to the eye
According to the Cisco Visual Networking Index, video will constitute approximately 80 percent of all Internet traffic by 2020, and the availability of 4K-enabled devices is expected to triple in the same timeframe. This will present considerable challenges to cloud and communications service providers, exactly the challenges the new Xeon is aiming to solve.
Intel calls the Iris Pro Graphics P580 its most advanced graphics processor. Now, the company has bundled this GPU with the CPU cores based on the Skylake microarchitecture and built with 14nm transistor technology.
The E3-1500 v5 family includes 5 SKUs aimed at two distinct markets – generic media processing in large data centers, and graphics-intensive tasks in smaller enterprise facilities.
The CPU cores themselves are clocked between 1.9 and 3.5 GHz, support up to 64 GB of DDR4 at 2133 MHz and feature integrated PCI Express Gen 2.0, 6 Gbps SATA, and USB 3.0 connectivity.
According to Intel, the E3-1500 v5 product family offers up to 26 percent more overall graphics performance than the previous generation E3-1200 v4 product family.
But the real star of the show here is Quick Sync Video, a hardware-accelerated video encoding and decoding technology that, for the first time ever, has enabled chips from Intel to handle High Efficiency Video Codec (HEVC) in real-time.
A single E3-1500 v5 chip is now able to transcode two 30 frame-per-second HEVC video streams at the same time, in glorious 4K resolution. Alternatively, it can simultaneously transcode 18 streams of full HD content.
The silicon also features Intel Graphics Virtualization Technologies (Intel GVT), an umbrella term for three different types of virtualization. GVT-d provides the highest possible performance by assigning a dedicated physical GPU to a single virtual machine. GVT-g allows up to seven users to share a single graphics processor at the same time, and GVT-s supports a larger number of virtual desktops for less demanding work.