Elliptical Mobile Solutions, whose pioneering micro mobile data centers were once adopted by AOL, has been absorbed into a new outfit promising "instant" edge facilities. 
From around 2010, Elliptical sold self-contained modular rack units which included cooling and power distribution, including mobile units on wheels with their own electrical motors. Despite a contract to build these for AOL, the company went into bankruptcy in 2015. Now a marketing firm has bought the assets and plans to put them to use in a new micro-modular venture called Instant Data Centers.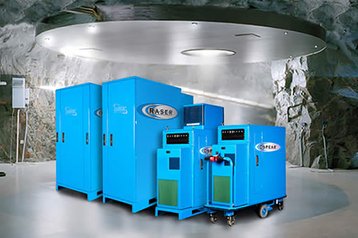 Just add water?
Elliptical marketed the units worldwide and in 2012, AOL announced a plan to use Micro Data Centers, made by Elliptical, for distributed capacity, in an early example of so-called "edge" data centers.
But the company foundered, and went into liquidation in January 2015. Now an internet marketing firm, Managed Admin, has bought Elliptical's intellectual property, and is putting it into a new company, Instant Data Centers.
The plan is to "put the old team back to work and help the company grow," according to a statement from Managed Admin, quoted by Phoenix Business Journal (PBJ). 
The new company, led by CEO Russ Daily, argues that micro-modular data centers can be more efficient because there is no wasted space, and only cools down the hardware that requires it: "Do you bring your milk home from the store, set it on your kitchen table, then crank your air conditioner down to keep it cool?" asks its website. "Then why do this with your data center?"
Micro data center are certainly a more viable proposition in 2016, with the current excitement about placing capacity at the network edge. 
The company behind this, Managed Admin is an SEO outfit, from its website, with no other visible experience in hardware. From the PBJ report the deal seems to be at least partly based on  proximity, as Managed Admin, Elliptical and Instant Data Centers are all based in Gilbert, Arizona. 
Daily told PBJ that Instant will inherit around 50 customers from Elliptical, including NASA and NATO.