Sales of x86 servers in China are booming. Dominated by local suppliers, the market has overtaken Europe to become the second biggest x86 market worldwide. 
Sales of x86 servers in China grew 24.4 percent over Q4 2013, to reach 11.26bn CNY ($1.82bn) in Q4 2014, with local cloud services giant Inspur leading the market, according to figures from research firm Gartner.
Inspur took a 19.5 share, leading the market for the second time in 2014, according to the Gartner figures. Two-way x86 servers still dominate, accounting for 69.7 percent of the sales volume. Local vendors including Inspur, Huawei and Sugon have all seen robust growth; not surprisinlgy, Inspur registered the highest growth rate (60.1 percent).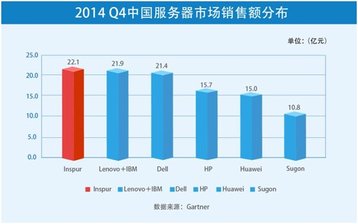 Internet players drive the market
China's Large internet players including Baidu, Alibaba, Tencent, and Qihoo 360 are major drivers behind the 2-way x86 servers growth.
Gartner notes that as servers for the internet industry are becoming increasingly integrated, the mainstream of purchases will move to all-in-one rack servers which comply with Scorpion 2.0 Standards rolled out by China's Open Data Center Committee. It is estimated that all-in-one rack servers will account for no less than 50 percent of all the servers purchased by Alibaba and Baidu in 2015, and Alibaba even plans to replace all its traditional servers with all-in-one rack servers by 2017.
High-end servers including four-way x86 servers and eight-way x86 servers saw even higher growth, increasing by 43.9 percent and 130.7 percent respectively over the same period in 2013. Inspur still dominates each of the two markets, and its market share in the eight-way market reached 50.4 percent.
The research company also revealed that in 2014, China overtook Europe and became the second largest x86 market globally.
Government influence
Analysts attribute this growth to the Chinese government's vigorous tech promotion efforts and its booming internet industry. Under the new administration, Premier Li Keqiang has put forward the "Internet+" strategy based on the integration of IT and industry.
It is expected that as these efforts continue, boosted by new technologies such as cloud computing, big data, and mobile internet, China's server market will maintain steady growth for a long period of time. 
However, Gartner warns that server vendors, while focusing on capturing market share, shall consider strategic issues including technology and industry chain set-up to enhance core competitive strength.