Inspur, one of the largest suppliers of IT equipment in the world, has outlined ambitious growth plans that focus on the popularity of cloud computing.
Inspur Cloud wants to hit 20 billion Yuan ($3.04bn) in annual revenue by 2020 – with the majority of this number made from the sales of its own cloud services.
In order to achieve this lofty aim, the company plans to build seven "core nodes" and 50 "sub nodes" in China – the latter likely referring to smaller edge locations. Inspur also plans to build five cloud data centers abroad, located in the US, Columbia, Germany, Russia and Ethiopia.
The new projects were announced this week at the Computing Everywhere conference in Beijing.
New kid on the block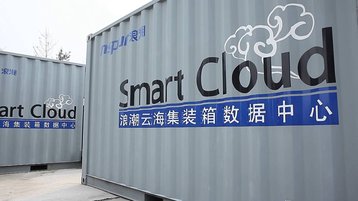 Inspur (formerly Langchao) is a hardware manufacturer headquartered in Jinan, China. It established a cloud computing division in 2011, and is now planning to make it a new cornerstone of the entire business.
Inspur already runs four core cloud centers and 34 municipal cloud centers in China, but it plans to considerably expand operations, with 57 new locations in China and another five abroad.
Inspur Cloud said it will go after both enterprise and government customers, supporting countries involved in China's state-funded "Belt and Road" Initiative with computing resources and data storage.
The company has also unveiled a new logo and a new advertising slogan – "Computing Everywhere".
"In five years, Inspur Cloud will invest 10 billion yuan [$1.52bn] to expand the layout of cloud centers in Chinese market and launch the 'overseas plan'. With five cloud center nodes all over the world, Inspur Cloud will develop global business and provide services to more than 100,000 government clients and over 1,000,000 enterprise clients," said Richard Wang, executive president of Inspur Group.
"And Inspur Cloud will team up with partners to build Inspur Cloud's ecosystem. By 2020, Inspur Cloud will work hard to boost the sales revenue to 20 billion yuan and become a world-leading cloud service provider. With 'Computing Everywhere', we will show the world China's cloud power."