American data center industry association Infrastructure Masons has launched a rating system that evaluates real-life performance of colocation facilities.
The iMasons Data Center Performance Index (DCPI) looks at availability, efficiency and environmental impact of data centers to produce three sets of grades, from A to D. It hopes to enable colocation customers to make better-informed choices when they are looking to relocate their servers.
The system is applicable worldwide, but has initially focused on the US market.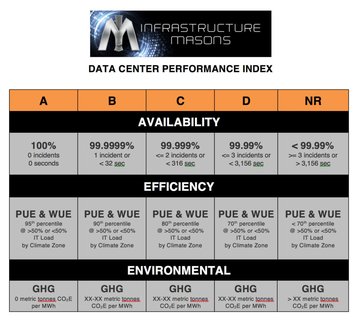 Importance of measurement
Infrastructure Masons was established in April 2016 by Dean Nelson, who was previously responsible for data center operations at eBay and PayPal, and has recently moved to Uber Compute.
The organization aims to bring together people who build data centers - designers, architects and engineers - to share best practices, test new technology, and possibly even influence the direction of the industry as a whole.
The new performance measurement framework aims to simplify the task of choosing a colocation provider. It applies letter grades to a data center across three categories – availability, efficiency and environmental impact.
Availability in this context includes power, cooling and networking, with the number of incidents and seconds of overall downtime having a decisive impact on the final grade. Efficiency includes both traditional PUE and less popular WUE (Water Use Efficiency) metrics, with results dependent on the climate zone where the facility is located. And finally, the efficiency category looks at the number of metric tons of CO2 emissions per MWh consumed by the data center.
Infrastructure Masons says DCPI will help customers see how a data center performs over time, while data center operators will be able to showcase their performance using a common mechanism.
"We have held three working sessions in California, Colorado, and New York to tune the DCPI rating system," Nelson explained.
"I am very grateful to the more than 150 members who spent quality time discussing and debating the details and merits of the new system. We still have more work to complete, but we have made tremendous progress in a very short time."