PT Ekagrata Data Gemilang (Edge DC) has opened a new data center in Jakarta, Indonesia.
The subsidiary of Indonesian ISP Indonet launched its first data center, known as EDGE1, this week. The five-story, 6MW facility can accommodate up to 1,300 racks. The company said more than half of the capacity has already been leased.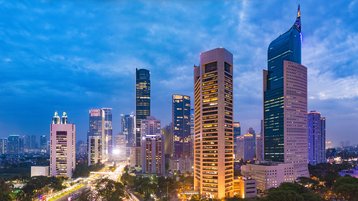 "EDGE1 is our stepping stone in pioneering the edge data center in Indonesia with the aim to create a highly connected ecosystem close to the end-users and support the next generation of digital businesses in Indonesia," said Stephanus Oscar, CEO of Edge DC. "We are committed to building world-class data center facilities in downtown Jakarta with future plans to build over 40MW of IT load capacity to ensure scalability for our customers."
The company also said it had partnered up with PT DCI Indonesia Tbk (DCI Indonesia). Under the partnership, Edge DC will adopt DCI's platform in terms of infrastructure design and operational standards.
DCI Indonesia's CEO, Toto Sugiri said: "We are excited to have Edge DC under the DCI platform. As EDGE1 and DCI are strategically located in different locations serviced by different power sources, this represents an ideal opportunity to serve as a primary and disaster recovery center for customers or even as separate availability zones for cloud providers."
Earlier this year Indonet, through Edge DC, purchased two plots of land in Kuningan, South Jakarta on which to build a new data center in addition to EDGE1. The company acquired the 6,000 square meter (64,500 sq ft) site from PT Sentragraha Sentosa for Rp. 241.72 billion ($16.6 million).
Indonet started in 1994 as the first commercial private Internet service provider (ISP) in Indonesia. The company already has two data centers in Jakarta and South Tangerang.
Indonet CEO, Karla Winata added: "Edge DC provides a unique value proposition that combines scalable world-class infrastructure with a strategic location close to the major network hub of Indonesia. With the added benefit of Indonet's range of network solutions, customers at Edge DC will also be able to experience high-speed interconnectivity required for businesses to scale quickly."
In June Singapore-based and Stonepeak-backed data center firm Digital Edge acquired a majority stake in Indonet. The company invested $165 million in the telco, making it the single largest shareholder.