Indian digital technology firm Varanium Cloud has launched a new Edge data center in Maharashtra.
The company launched a containerized data center in the town of Kudal in the Sindhudurg district this week under its Hydra Web Services unit.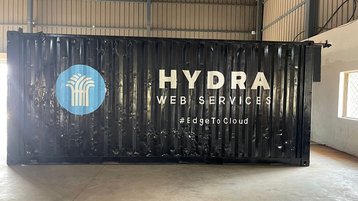 Specifications weren't shared, but images suggest the deployment is housed within three standard-sized shipping containers.
"We are thrilled to announce the successful launch of Hydra Web Services' Containerised Edge Data Center in Kudal, Sindhudurg," the company said on LinkedIn this week.
Another facility in Panjim, Goa launched at the end of December 2022. A third facility is due to launch in Mumbai at the end of March.
The company says the facilities are a 'proprietary-designed containerized unit.' In its latest semi-annual report, the company says it has plans to deploy 'at least three' containerized data centers in H2 2023.
"These Edge data centers are expected to play a major role in improving the company's gross margins as well as it shall bring high compute environments closer to the user, which is a critical component of the 5G rollout requirement," the company said.
Varanium Cloud says it aims to deliver digital, technology, and Internet services in tier-two cities. The company operates a number of companies; ed-tech company Edmission, cloud company Hydra Web Solutions, VOIP provider JumpTalk, white label TV service Cable Cloud, and e-commerce platform TUG Digital.