The governments of India and the US have signed a Memorandum of Understanding (MoU), promising close cooperation and exchange of information around cyber security issues.
The MoU between Indian Computer Emergency Response Team (CERT-In) and its counetrpart US-CERT was signed by Electronics and IT Secretary Aruna Sundararajan and US Ambassador to India, Richard Verma.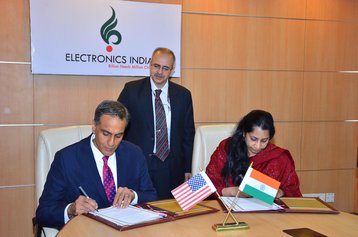 This again
"The MoU intends to promote closer cooperation and the exchange of information pertaining to the cyber security in accordance with the relevant laws, rules and regulations of each economy and this MoU and on the basis of equality, reciprocity and mutual benefit," an official statement said.
In 2011, India and the United States already signed a similar MoU regarding cyber security.
And in September 2016, the two nations held the fifth US-India Cyber Dialogue, which the White House said focused in particular on "exchanging and discussing international cyber policies, comparing national cyber strategies, enhancing our efforts to combat cyber crime, and fostering capacity building and R&D, thus promoting cyber security and the digital economy."
President Barack Obama and Prime Minister Narendra Modi also met last summer to discuss cyber cooperation.
The elephant in the room
Not explicitly mentioned was a mutual concern over the growing cyber capabilities of China, which has been accused of cyber attacks by both nations.
"There are a few items in the cyber security language [in the accord] that seem particularly oriented toward the US getting India, and I assume other Asian countries, to align with the US and against China in 'cyberspace behavior norms' - not using the Internet to steal intellectual property, not trying to inhibit computer security incident response teams and so on," John Pescatore, director of emerging security trends at the SANS Institute, told FedScoop last year.
Adam Segal, the Maurice R. Greenberg senior fellow for China studies and director of the Digital and Cyberspace Policy Program at the Council on Foreign Relations, added that "in any kind of security cooperation with India these days there is some balancing going on against China."